Classic Works Of Art, But Way Better
I'm the first to admit that I'm not the world's greatest museum-goer. While I do enjoy art, my capacity for walking around and admiring it only extends to about two hours before I start getting bored (I feel the same way about shopping). But guess how long I would spend in a museum that displayed artist Svetlana Petrova's giant ginger cat Zarathustra doctored into classic works of art? All. Freakin'. Day. Because this? Is genius.
According to the Daily Dot, the Russian artist Svetlana Petrova sank into a deep depression when her mother passed away in 2008. For two years, she found herself unable to create anything — until one of her friends suggested that she try to do something with Zarathustra, the gigantic ginger cat who had once belonged to Petrova's mother and now belonged to Petrova herself. So Petrova started adding Zarathustra to famous works of art spanning ancient times, through the Renaissance, all the way up to the present — and the results are quite possible the greatest thing I've ever seen. I mean, seriously. There's Michelangelo:
Botticelli: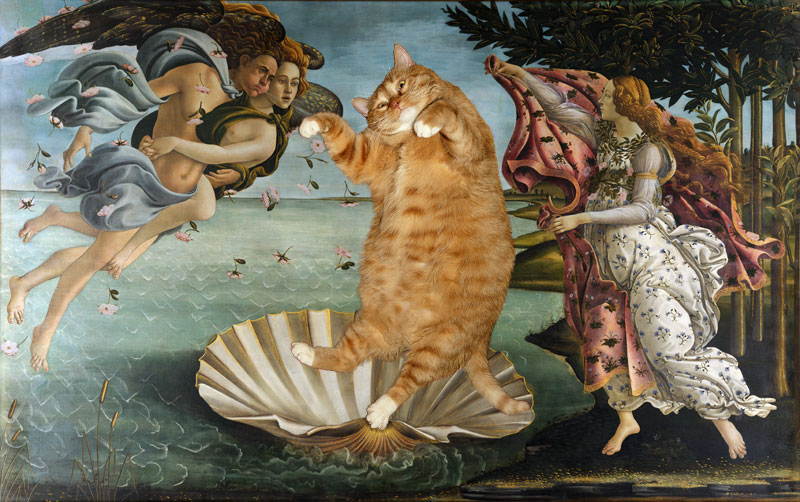 Rembrandt: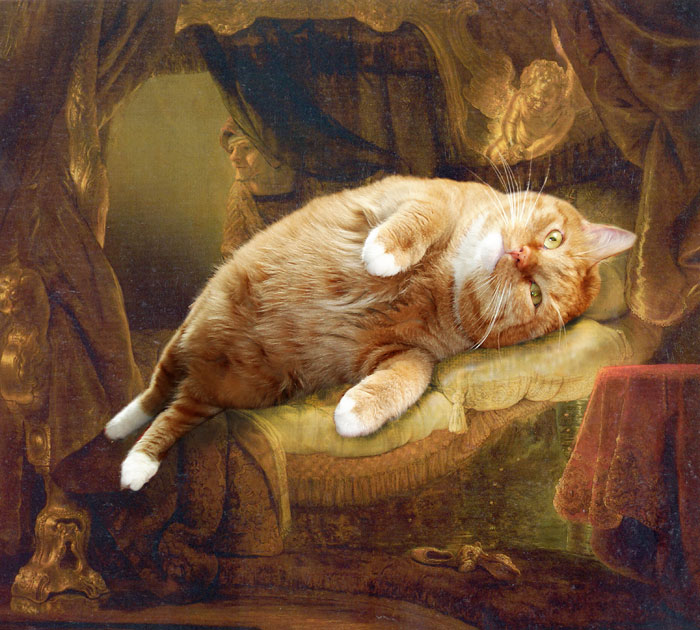 Dali: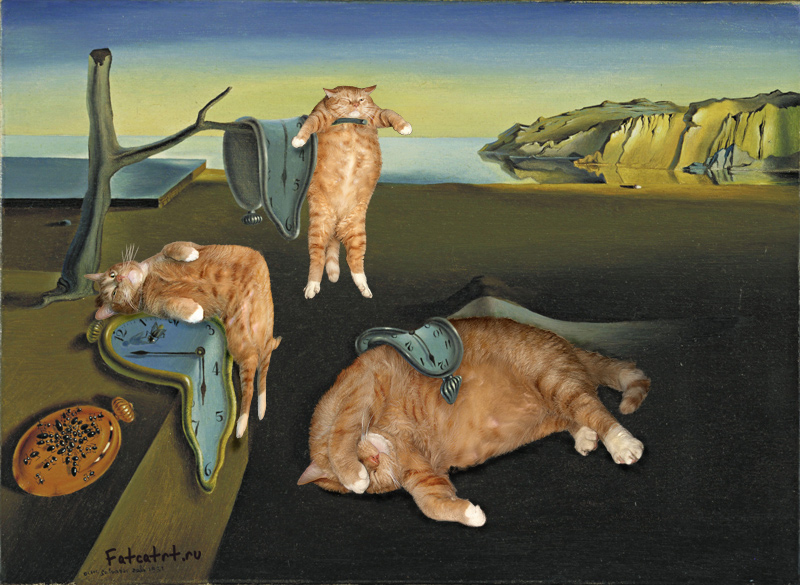 And even my personal favorite, Hopper: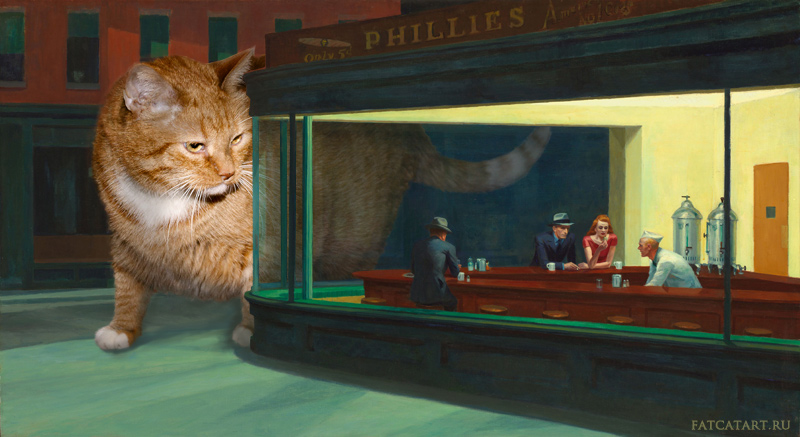 Nighthawks is one of my favorite paintings already, but it takes on a whooooooole new meaning when you realize that the late diner patrons are being stalked by a monstrously large cat. Paging Hollywood...
Petrova created a website, Fat Cat Art, showcasing her hilarious new versions of all these well-known pieces and passed them around to a few friends in the art world, but she didn't plan on doing anything more with them than that. Several months later, however, the paintings had become Internet famous, which inspired Petrova to take up her paintbrush once again — and with great result: From May 30 through June 5, her work will be open for public viewing at the UK gallery Stonehill House in an exhibit called "Russian Extremes – From Icons to I-Cats."
Petrova's method has changed a little over time; she recently told the BBC, "I… now make digital paintings — I use high-resolution digital reproductions of the artworks and insert the cat in the style of the painting. Then I print them on natural canvas in the size of the original and paint over them with textured gels and oils and match the colors as closely as possible." She added, "Digital technology gives people the opportunity to make art and museums should be more attentive to it." Bless the Internet!
For his part, the cat doesn't seem to mind all the posing and such. "Zarathustra likes posing and is a really intelligent cat," Petrova said. "He likes to lie on his back and make strange faces like he's speaking with somebody." These days Petrova uses a team of people to keep the cat entertained while she captures his image, although (of course) some days he's more cooperative than others. Grumpy Cat better look out — looks like she's got a rival!
Images: Facebook / Fat Cat Art