Ditch These Dorm Decor Items After Graduating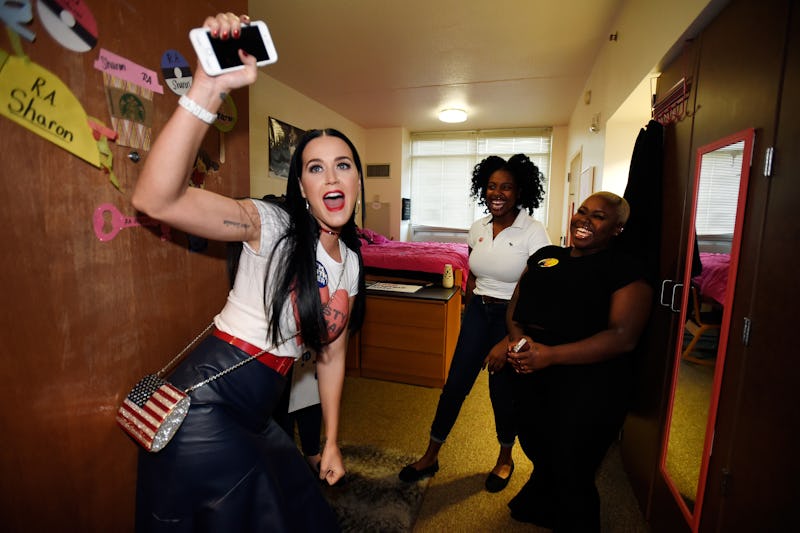 David Becker/Getty Images Entertainment/Getty Images
Dorm decorating can be one of the most memorable experiences of your college career, and is an important way to present yourself to your new friends. Planning which photos to tack onto your bulletin board, deciding whether War and Peace would be pretentious to display in your limited bookshelf space, and coordinating comforter designs with your roommate is an extremely fun experience. When decorating your college space, the possibilities seem endless!
However, by the end of your college career, you're likely to have accumulated a ton of junk. Does an empty bottle of tequila really count as a flower vase? How did you and your roommates manage to find posters from every single Chris Hemsworth film? Should there truly be a pink flamingo on display in your bathroom? These are the types of questions that, sadly, have to be answered around graduation season. You're moving away from the university and into the "real" world, which means finding an apartment fit for an adult. Most likely, you'll need to reevaluate your college decor.
While a lot of things should go with you, such as your impressive academic library that's recently been filled with textbooks, a lot of them shouldn't. Here's a handy list of decor to ditch once you've walked across the graduation stage:
1. University Pennants
Unless it's hanging in a garage or game room, there is really no place for a pennant in an adult's house. Replace it with your framed diploma!
2. Posters of Shirtless Men
This is undoubtedly the most unfortunate item on my list. As awesome as it is to look up at Ryan Gosling's chiseled physique from your desk, it might be difficult to explain this type of decor when you're throwing a professional dinner party. But nobody looks inside your closet, right...?
3. The Miniature Fridge
The mini-fridge is an absolute must for the college dormitory. It's the perfect size for storing your leftover pizza slices, six-pack of beer, and chocolate pudding cups! However, after graduation you'll (hopefully) be moving into a place with a real kitchen and full-sized fridge. It might be handy to keep in your office, though, if your workplace is into that sort of thing.
4. Your Greek Letters
When involved in the Greek system, you tend to accumulate a lot of sorority or fraternity-branded items. Once you graduate, spare yourself the clutter by ditching most of it, and holding onto only your very favorite lettered items. Try not to make your adult home look like a sorority house.
5. The Garage Sale Couch
The "garage sale couch" is a monstrosity that can be found in most college apartments. This ancient, beaten couch has seen better days; it was picked up at a garage sale in 2003 and has bounced between college pads ever since. While it served you well for four years, do yourself a favor by cutting ties with this lumpy furniture and upgrading to something presentable, even if your budget only allows for IKEA.
6. Your Pack of Stuffed Animals
We've all got them: loyal, fluffy friends that have been with us since childhood. Suggesting that you throw them away would be absurd, seeing as they're the best kind of comfort for the stressful post-graduation times ahead of you, but keeping them stored somewhere private may be wise. A stack of stuffed animals on your bed screams, "teenager."
7. Your Dry-Erase Message Board
In college, everybody has a different schedule. When you don't see your roommate for three consecutive days thanks to classes, work, and social obligations, how do you decide who's buying this month's toilet paper? Write it on the board! Where can you possibly express yourself through a snarky doodle? The board, of course! Once you graduate, though, this decor item can appear a bit tacky and juvenile. Invest in a nice chalkboard or set of stationary paper instead.