'Pitch Perfect 2' Already Looks Great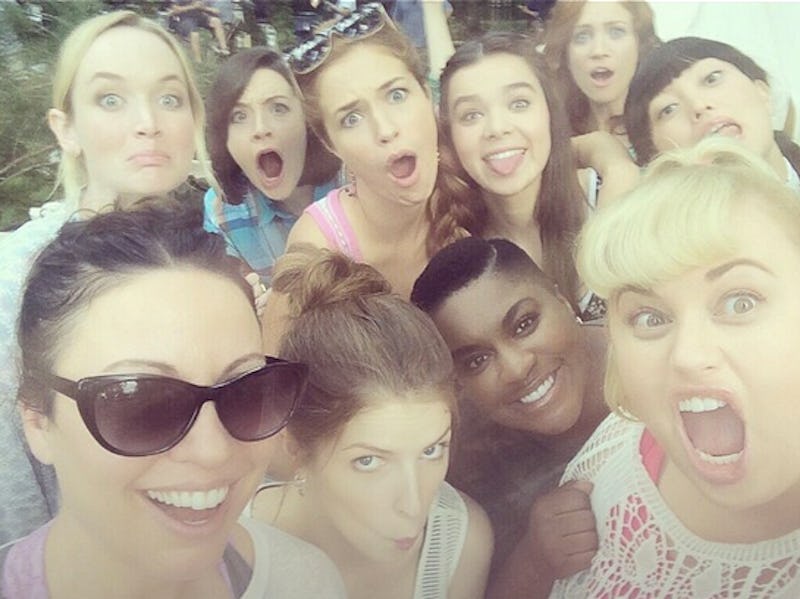 From the looks of it, a sizable chunk of production on the much-anticipated sequel to 2012's Pitch Perfect is devoted to group selfie time. Not that you'll be getting any complaints about that from me: These people are just as adorable as ever in the newest Pitch Perfect 2 cast selfie, and it's a good way to keep the public clamoring for a first glimpse that'll actually tell us something about the movie they're supposedly making.
This particular shot (above) was posted to the Instagram of Rebel Wilson, who plays Fat Amy. It features a lot of the old cast, and some faces new to what can probably be called the Pitch Perfect "franchise." At the front and to the left is also the film's writer, Kay Cannon, a former writer for 30 Rock who you might have seen on New Girl as one half of the lesbian couple who floats in and out of the show. Other highlights of the group selfie:
Wilson's "RAWR" face is pretty great.
Ester Dean, who plays Cynthia-Rose, is in the center looking glorious.
Anna Kendrick can't resist the fish-face.
New Pitch Perfect addition (and Oscar nominee!) Hailee Steinfeld seems perfectly at home among her new Bella sisters.
Someone let Brittany Snow be closer to the front! They've almost Liza Minnelli'd her all the way in the back.
All in all, they look pretty happy together. Hopefully a happy cast will translate into a really fun sequel.
Image: RebelWilson/Instagram