TLC Reality Star or Britney Spears?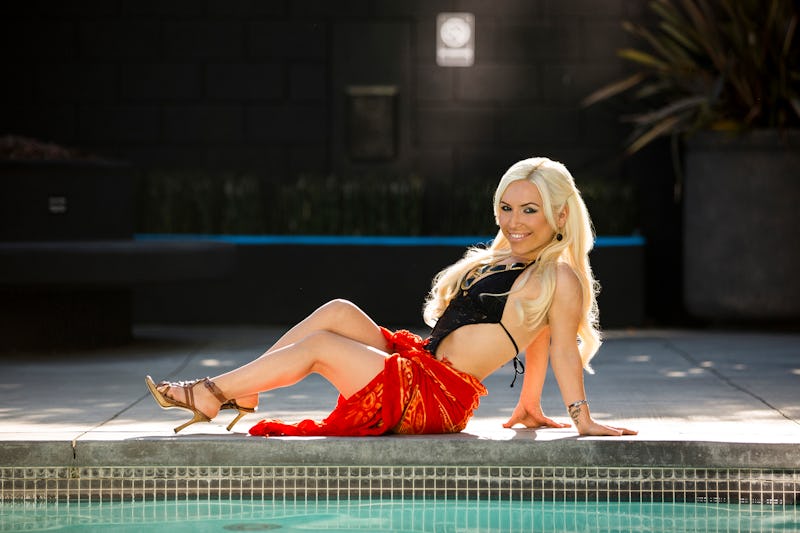 What's a little healthy competition between friends? There's only been one episode of Little Women: LA so far, but we can already see that there's some tension and jealousy in the career and love departments among this group of six lovely ladies. Okay, so maybe in the case of Lifetime's new reality show, it's more like a lot of maybe-not-so-healthy competition between frenemies. And it all centers on something called the "Mini Britney Spears" act.
The ringleader of the group Terra Jole and the "Russian bombshell" Elena Gant seem to especially have it out for each other. In last Tuesday's episode, Gant introduced herself as the "younger, hotter version" of Jole. Jole fired back by implying Gant is just a pretty face and that she married her husband Preston Gant just to get a green card. Gant thinks Jole is threatened by her, which is probably not far from the truth, seeing as she's basically following in Jole's footsteps with her career as an entertainer.
Jole claims she created the "Mini Britney Spears" act long before Gant burst onto the scene, where she dresses up in that infamous red latex unitard and sings "Oops... I Did It Again," sometimes fighting with a "Mini Kevin Federline," too. Now Gant performs as "Mini Britney," as well as a bunch of other female pop stars in the variety show Beacher's Madhouse in Las Vegas. Gant received some attention earlier on when TMZ heard she would be christening the opening night of Beacher's Madhouse at its new location at the MGM Grand on December 27, 2013 with a performance as "Mini Britney," the same night the real Spears would be kicking off her residency at Planet Hollywood. They naturally played up the competition between the two Brits, as you can see in the clip below.
We may or may not get to see some of Gant's performance as "Mini Britney" later on this season. That might depend on some legal trouble the producers of Little Women: LA may have encountered from the creator of Beacher's Madhouse, Jeff Beacher. He reportedly sent a cease and desist letter to the producers with the intention of stopping them from airing Gant performing as "Mini Britney" because he owns the rights to the act.
Whether or not we do actually get to see Gant's performance on Little Women: LA, we know it's pretty outrageous. Not only does Gant perform as "Mini Britney" but she also seems to impersonate pretty much every big female pop star today, such as Miley Cyrus, Katy Perry, and Lady Gaga. And she doesn't just put on a wig, do some lip-syncing, and call it a day. Oh no. Gant's performances are bizarre-o spectacles, complete with a boxing ring set while singing "Roar" as Perry, twerking with Cyrus' own Amazon Ashley, and a creepy Barney the dinosaur as a back-up dancer. She even re-created Cyrus' "Wrecking Ball" video on stage in this NSFW clip. But then again, this all seems to be just a regular night for Beacher's Madhouse.
Gant hasn't been in the game that long, but she already has lots of stage time impersonating twice as many celebs as Jole it seems. Better watch out, Jole. It really does look like Gant is gunnin' for ya.
Image: Lifetime/Zack Dilgard