What Has Slenderman Got To Do With A Stabbing?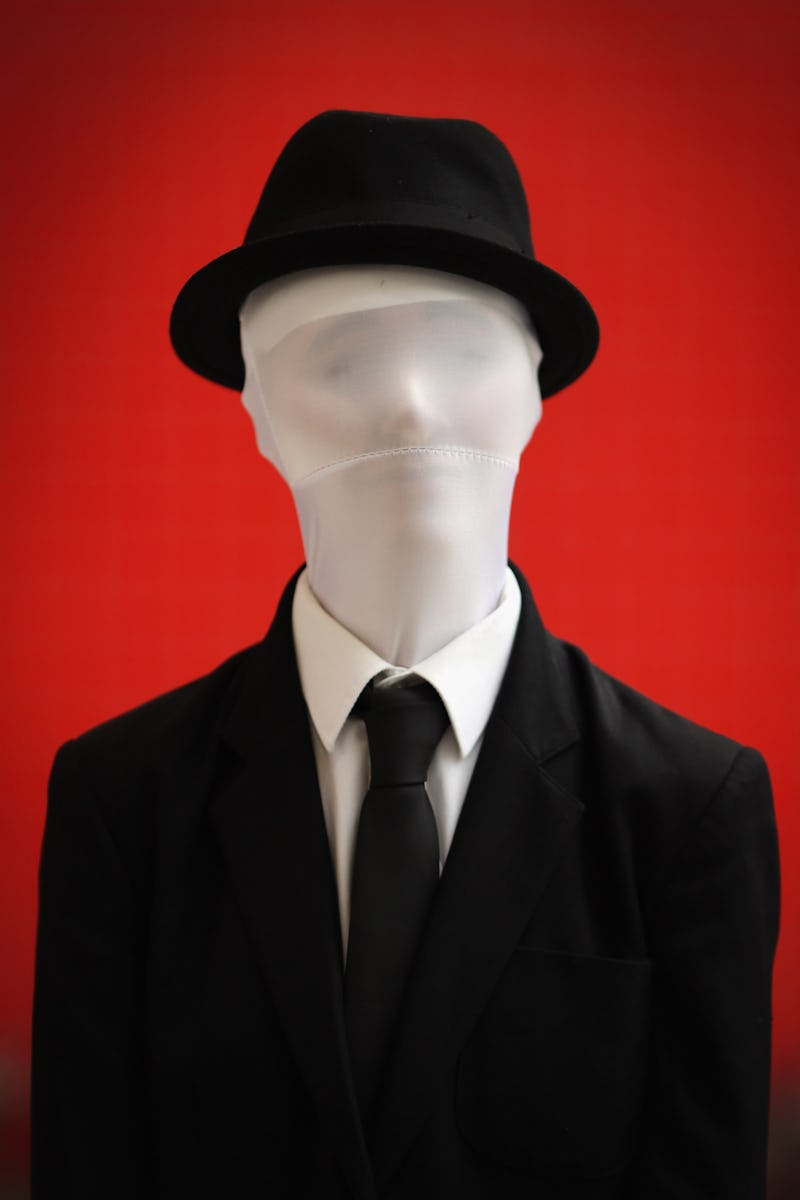 Dan Kitwood/Getty Images News/Getty Images
Most Internet memes inspire laughs and warm feelings, but for two 12-year-old girls in Waukesha, Wisconsin, the Internet held something more sinister. The two pre-teens were charged with attempted first-degree intentional homicide Monday for stabbing their friend 19 times to "impress" Slenderman, an evil supernatural figure popular among online horror sites. They are being held on $500,000 bail and face up to 65 years in prison, because they're being tried as adults. The victim, also 12 years old, is currently in stable but serious condition.
According to the criminal complaint detailed in the Milwaukee Journal Sentinel, the two girls allegedly lured their friend, a fellow student at Horning Middle School, to one of the girls' houses on May 30 under the guise of having a birthday outing and sleepover. The girls had originally planned to stab the victim in the perpetrator's bedroom at 2 a.m., but changed their minds.
On the morning of May 31, the two girls took the victim to a nearby park. One perpetrator tucked the knife in her waistband, kept hidden by her white jacket. The two pre-teens allegedly stabbed the victim in the woods during a game of hide-and-seek. The victim was able to crawl out of the woods and onto a sidewalk, where a passing cyclist found her bleeding.
When authorities found the two girls hours later, walking along Interstate 94, they told the police they planned to kill their friend because they wanted to become "proxies" of Slenderman and show others that he existed. The girls reportedly discovered Slenderman on Creepypasta Wiki, a site for horror fans.
Although Creepypasta states Slenderman is a paranormal figure who has existed for centuries, his roots really only stretch back to 2009. The character was created by Something Awful user Eric Knudsen in a forum devoted to editing photos to include supernatural elements.
True to his namesake, Slenderman is lanky with abnormally long arms that can stretch "to inhuman lengths," according to Creepypasta. He also has four to eight tentacles that protrude from his back.
Online horror lore claims Slenderman prefers woods to cities, and can be found where children live and play. His evident creepiness has made him extremely popular on the Internet, especially among those who enjoy and create fan fiction and fan art. The FanFiction archive alone lists 584 stories developed around Slenderman, while the art-hosting site deviantART features more than 46,000 paintings, drawings, photographs and video clips based on the mythology.
A 2012 BBC Radio 4 feature on the online of emergence of Slenderman also highlighted the Marble Hornets webseries, launched in 2009 by Troy Wagner, a fellow Something Awful user. The viral web series led to numerous Slenderman alternate reality games, most of which purport real-life sightings of the urban legend. Several indie filmmakers, including A.J. Meadows, jumped on the idea, looking to cash in on the low-budget yet widespread appeal that Slenderman had. Meadows raised more than $11,000 on Kickstarter in 2012 to fund his full-length Slenderman film, which has since been removed from the Internet.
One of the strangest Slenderman spin-offs may be the cosplay, which has taken off at conferences nationwide. Slenderman cosplay costumes can be purchased online, and YouTube tutorials even teach new players how to dress and act like Slenderman. The cosplay popularity has also made Slenderman a popular choice for Halloween costume, particularly among horror fans.
While it's easy to blame horror sites and forums like Creepypasta and Something Awful for perpetuating the Slenderman meme, let's not forget that these websites are the work of fiction. "There is a line between fiction and reality, and it is up to you to realize where the line is," a Creepypasta member said Tuesday in a blog post. "We are a literature site, not a crazy satanic cult."