The non-frumpy comeback of the bermuda short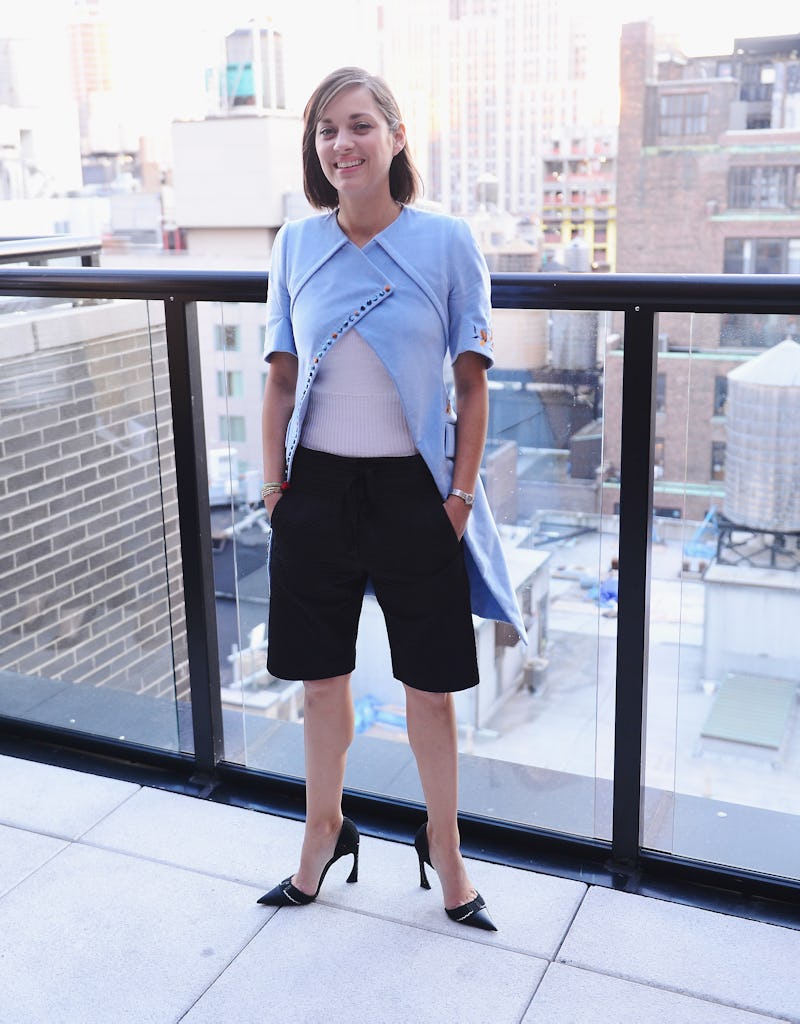 Stephen Lovekin/Getty Images Entertainment/Getty Images
This summer I'm taking my shorts to a new length that's longer than the infamous cutoff, but shorter than the culottes trend. I think it is safe to say that the last time I wore Bermuda shorts I was 14, but this summer the trend is back and chicer than ever. The beauty of this season's best Bermuda shorts are that the styles are endless so you can rock this look to the office, while running errands on the weekend, or out on a date night. Yes! I said it. Date Bermudas are totally a thing.
The Bermuda short was first seen making its fashionable and still slightly shocking comeback during runway shows for the spring and summer 2014 season. Some of the designers who showcased Bermuda short looks were Jason Wu, Diane von Furstenberg, Alexander Wang, Fendi and Victoria Beckham. Cara Delevnigne even opened up the Fendi show at Milan fashion week sporting a white pair of knee length shorts. Now that the summer season is finally upon us, it's the perfect time to take these looks from runway to everyday and add a pair into your wardrobe. Check out some looks below that will take you from day to night and everywhere in between. I know I'll be adding these shorts to my summer wardrobe for a fresh fashion change of pace.
1. The Weekend Bermuda Short
Whether you spend your Saturday morning running errands for the week or have plans for brunch and shopping with your friends, these shorts are the perfect combination of chic and casual. Pair them with a plain white t-shirt and statement sandals or show a little skin with your favorite crop top.
Madewell High Waisted Bermuda Shorts, $64.50, shopbop.com
2. The Work Ready Style
Trying to find a work appropriate outfit that won't make you melt in the blazing summer heat can be a serious struggle. But these navy Bermuda shorts are the perfect length and style to leave you cool and office ready all season long. Pair them with a crisp white button up and a nude heel and you're out the door and heading for your pre-work latte.
Vince Side Buckle Bermuda Shorts, $110, neimanmarcus.com
3. The Athletic Look
These Bermuda shorts are sporty without making you look like you got lost on the way to the gym. Pair them with a loose cropped t-shirt and your favorite pair of sneakers to keep the athletic vibe going strong.
Just Female Tao Bermuda Short, $104, urbanoutfitters.com
4. The Bright Daytime Version
These cuffed woven Bermuda shorts are a fabulous length and summer color. Pair the shorts with wedges or flats, a neutral top, and a statement necklace and you're ready for whatever the day throws your way. Plus, this pair is the ultimate in Bermuda bargains.
Love 21 Cuffed Woven Bermuda Shorts, $19.80, forever21.com
5. The Date Night Bermuda Short
The bright orange color will certainly make you stand out, but the above the knee length and slim fit also make these shorts date night ready. Pair with your favorite confidence-boosting heels, black top, and metallic clutch, and you're ready for dinner and drinks. Added bonus: Casual Fridays in the office? These shorts from work to date night without having to run home for a wardrobe change.
Orange Boy Shorts by Boutique, $160, topshop.com
6. The Day to Night Short
These lightweight Bermuda shorts will help you beat the heat this summer and, with the right accessories and pairings, you can easily take this look from day to night.
Lightweight Bermuda Short, $49.50, jcrew.com
7. The Dark Wash Distressed Denim Style
The dark distressed wash and cuffed look of these shorts make them perfect for anyone trying to ease away from their regular cutoffs. Pair them with flip flops, a loose tank, and crossbody for a daytime look or dress them up for a night out with the girls with heels and a bright top.
Paige Denim Jax Knee Short, $104.30, shopbop.com
8. The Bold Blue Look
To brighten up this summer trend, try a bold blue pair of Bermuda shorts. These will pair perfectly with a white or black top — don't forget to add some gold accessories. These Vince Twill Bermuda Shorts Cote d'Azure are currently available at neimanmarcus.com for $195.
Vince Twill Bermuda Shorts Cote d'Azure, $195, neimanmarcus.com