The 10 Best Roller Coasters In America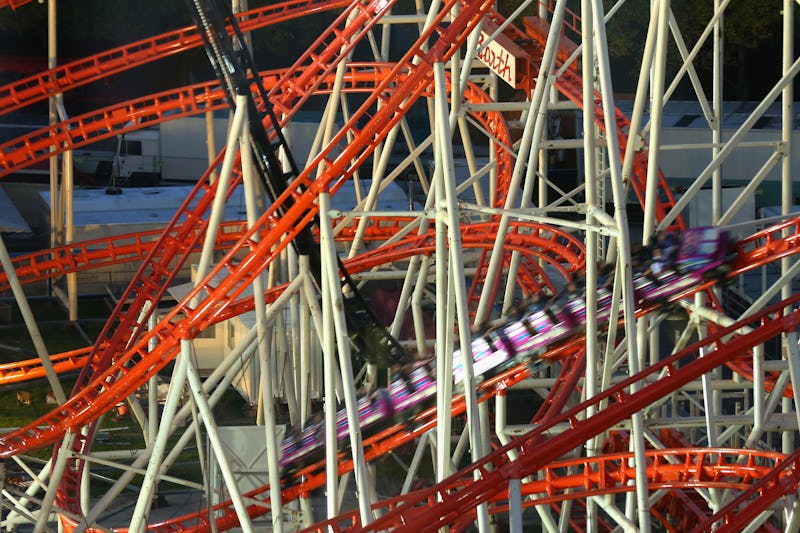 Alexander Hassenstein/Getty Images News/Getty Images
In the last 10 to 15 years, a slate of new roller coasters has pushed at, pulled at, and sometimes entirely changed our conception of what a thrill ride can and should do. We've seen the erection of rides like Top Thrill Dragster at Cedar Point in Sandusky, Ohio and Kingda Ka at Six Flags Great Adventure in Jackson, New Jersey: spindly giants that project riders into the far less oxygen-rich reaches of our atmosphere (both rides top 400 feet) at speeds that would earn you a ticket in rush-hour traffic on the Autobahn. We've seen, too, the construction of "flying" roller coasters, on which riders are suspended with their backs parallel to the track, as well as 4D — no, 5D! — coasters, which hang riders out to dry on either side of the track, caged in cars that spin freely through hills, turns, and inversions.
But just how do these new-fangleds compare with the classic woodies, the Coney Island Cyclones that have managed, for decades, without all the NASA-engineered bells and whistles, to send riders into the kind of torpor that only witnesses to oblivion know?
Not surprisingly, most lists of the top roller coasters contain a mix of both. So does ours. Here are our picks for the most innovative, scariest, and beautiful roller coasters in the country.
10. Kingda Ka: Six Flags Great Adventure, Jackson, New Jersey
It is the tallest roller coaster on the planet, it is one of the fastest and, yes, it is one of the best. Though it only lasts for a few seconds, the experience it offers is one you'll never forget; and, unlike that stranger at the bar, Kingda really means it. The stats are enough to make any enthusiast jump in a car and head to Central NJ: height, 456 feet; speed, 128 mph; incline, 90 degrees. But, the addition of a new ride, Zumanjaro, attached to Kingda's track, makes for the kind of amusement-park absurdity that truly must be seen and ridden to be believed.
9. Outlaw Run: Silver Dollar City, Branson, Missouri
Wooden frames and inversions come together in Outlaw Run. Opened in 2013, this ride flips riders upside down three times over the course of its half-mile-long track, while reaching a top speed of 68 mph. And that's not to mention the fact that its drop (162 feet) is, at 81 degrees, the steepest of any wooden roller coasters in the world. Located in Branson, Missouri, amid the Ozarks, Silver Dollar City is a bit of a trek for most. But, while Outlaw reigns supreme as the most innovative wooden roller coaster on the planet, it deserves a visit from true enthusiasts.
8. X2: Six Flags Magic Mountain, Valencia, California
X2 was, upon its debut in 2002, the world's first "four-dimensional" roller coaster. What this means: Riders are suspended on either side of the track in seats that spin 360 degrees as they climb 200 feet and progress through a series of "raven turns" at speeds reaching 76 mph. Since X2's opening, other similar roller coasters have added to the genre, but this red beast remains a favorite.
7. The New Texas Giant: Six Flags Over Texas, Arlington, Texas
The New Texas Giant is one of many roller coasters that has survived large-scale transformations over its decades-long history, all the while keeping its hold over thrill seekers far and wide. It was first opened in 1990 as the Texas Giant: a classic, big-drop, big-speed woodie, sporting a peak of 153 feet and a top speed of 65 mph. In 2011, after increasing roughness led to a decline in its popularity, it was refurbished, redesigned, and rebranded. The reno worked: Amusement Today named it the best new ride of 2011, and the ride has since become a thrilling symbol, not only of Texas's penchant for showmanship, but also of the ability of roller coasters to endure and evolve over time.
6. The Voyage: Holiday World & Splashin' Safari, Santa Claus, Indiana
In addition to being, at 1.3 miles, one of the three longest roller coasters in the country, this woodie boasts a stunning 24.3 seconds of airtime. That's nearly half a minute of astronaut-in-space-style zero-gravity sensation. And don't underestimate just how much scarier a wooden coaster can be.
5. Nitro: Six Flags Great Adventure, Jackson, New Jersey
Nitro, like Apollo's Chariot in Busch Gardens Williamsburg, eschews loops and cheap thrills for the simplicity of height, speed, and elegance. Beginning with a 215-foot drop, the coaster reaches a speed of 80 mph and takes riders over a series of a "camelback" hills that give you that weightless, stomach-in-throat sensation. With more than 5,000 feet of track, it's also one of the longest roller coasters in the nation.
4. Bizarro: Six Flags New England, Agawam, Massachusetts
Bizarro's mile-long-plus track includes a 221-foot-drop (into a dark tunnel) and a series of "airtime" hills that, at speeds reaching nearly 80 mph, lift riders out of their seats. Built by the same company that erected the famed Millennium Force in Cedar Point in Ohio, Intamin, the vivid purple coaster has been consistently well-reviewed by critics, including Amusement Today, which has named the best steel roller coaster in the world five times since 2003.
3. Millennium Force: Cedar Point, Sandusky, Ohio
When Millennium Force opened in the year 2000, it became the world's first Giga coaster (the official name for any roller coaster with a peak height between 300 and 399 feet). Subsequent coasters such as Kingda Ka have made that achievement seem minor by comparison, but this blue beauty still maintains a hold over the hearts of enthusiasts. In 2013, well after taller and faster rides had come along, TIME ranked it the number one roller coaster in the country. Perched at the perimeter of roller coaster mecca Cedar Point, the ride drops riders from a height of 310 feet before sending them over hills and and around sweeping turns at speeds exceeding 90 mph.
2. Apollo's Chariot: Busch Gardens, Williamsburg, Virginia
Like all coasters at Busch Gardens in Williamsburg, this purple stunner comes with an elaborate, if high-minded, thematic context: Antiquity! myth! (You may have guessed this from its name.) Valorous music plays as the car climbs the 170-foot peak, after which, the theme — well, at 73 mph, who cares about the theme? Chariot, which both TIME and Amusement Today have ranked among the best coasters in the country, is one of the few rides that executes thrills and horrors with grace. No rickety jangling, no ear contusions, no cheap tricks — just good, proper, terrifying fun.
1. El Toro: Six Flags Great Adventure, Jackson, New Jersey
If you're going to build a wooden roller coaster in the 21st century, it better worth all that eco-unconscious timber, meaning: it better be hellish enough to cause its snaky steel competitors to cower and put towels over their privates in fits of locker room envy. El Toro more than answers this challenge.
Built in 2006, the coaster starts things off with a 176 foot drop that, for numerical consistency's sake, is pitched at 76 degrees, making it one of the steepest slopes on any wooden roller coaster on the globe. Reaching 70 miles per hour, El Toro throws riders around haphazardly, pushing the limits, it would seem, of what angles and turns and zero-G hills a wood frame is capable of supporting. Easily one the scariest rides in existence — and one of the most frequently top-ranked — it makes up for in pure muscle what it lacks in new millennium gimmicks, making it the clearly thrilling and terrifying winner.