These 'Mad Men' For Your Consideration Ads Rock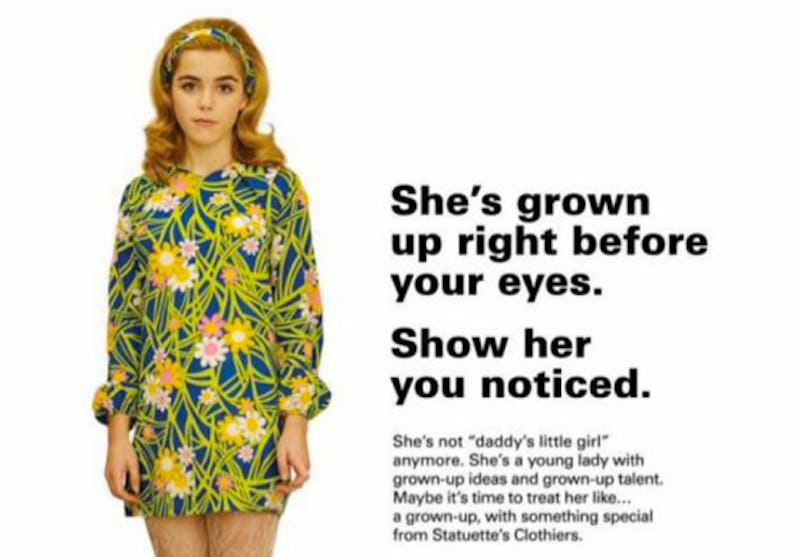 It's long been thought that Kiernan Shipka's Sally Draper is one of Mad Men 's guiding lights. We here at Bustle have already pontificated over the necessity of an Emmy nomination for her role — and it seems the AMC team agrees with us. At least, if these really cool, really thematically appropriate Mad Men "For Your Consideration" ads are to be believed. Shipka's, in particular, has us psyched for the Emmys.
Fittingly, Mad Men's campaign this year took the form of vintage ad campaigns, the goal — awards recognition, natch — evoked through the product names. They're selling shoes by Emmy and precious metals by Emmy. For Shipka, they've got "Statuettes: For the young girl who has almost everything." As her copy reads, "She's grown up before your eyes. Show her you noticed."
Only time will tell if this is Shipka's lucky year for a nomination. If it's not, we're sure Matthew Weiner & Co. have something big lined up for Shipka's Sally during Mad Men's final run next year, but patience hasn't always been our virtue: We really hope this campaign works out in her favor.
You can see Shipka's full ad below, as well as ones for Mad Men co-stars Jon Hamm, Christina Hendricks, Jessica Pare, January Jones, John Slattery, Elizabeth Moss, and Vincent Kartheiser. If you're really up for your Mad Men homework you can picture the pitches as if Don Draper constructed them himself.
It should also be noted that Vincent Kartheiser's seems to focus on his hair — which he shaves into a receding hairline for Mad Man — a somewhat amusing angle.
Images: AMC