'American Idol' Is About To Get More Swedish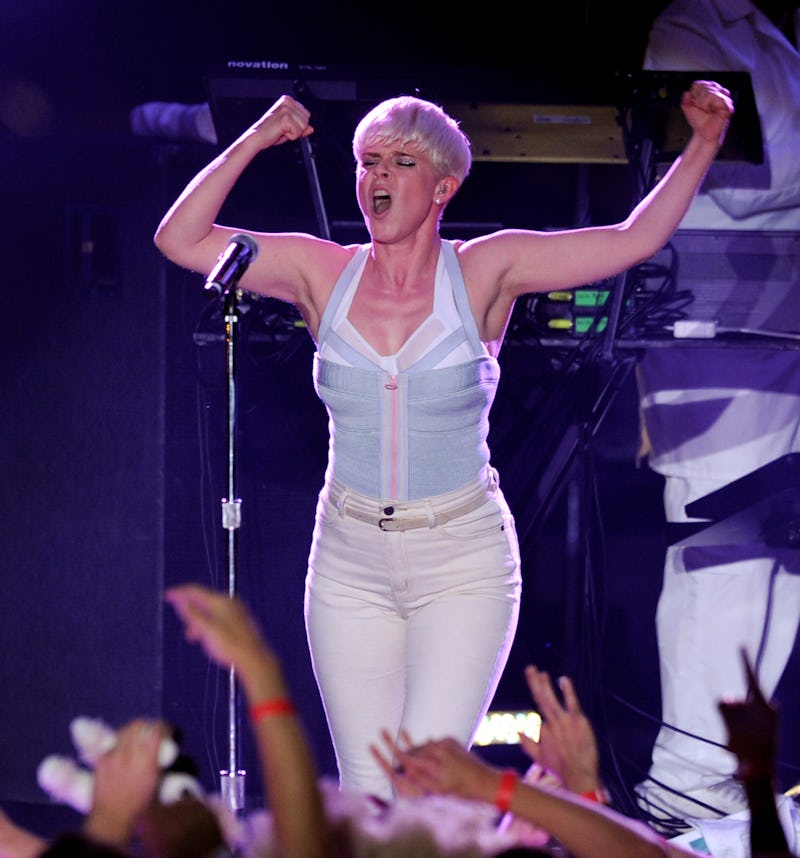 It's the end of an era. After spending over a decade as executive producers on American Idol, Nigel Lythgoe and Ken Warwick have been fired from the reality singing series. (Lythgoe released a statement about his departure Monday, saying that while he is "saddened," he believes he helped change "the face of American television forever and eventually created a true global phenomenon.")
Some would argue it was a pink slip long coming — American Idol's ratings have been in decline for several seasons now, and the show's last-ditch attempt to fill its judging panel with a rotating slew of A-listers failed to attract eyes. (Even though Nicki Minaj was cooler than a plate of old waffles. Sorry, haters.)
What is a surprise is the Fox series' choice to replace Lythgoe: Per Blankens, formerly the executive producer of Swedish Idol. Of course, having spent 12 seasons under the watchful eye Lythgoe — whose oldness and Britishness constantly permeated through his choices on Idol (hello Burt Bacharach and British Pop nights!) — does this mean we can expect some Swede influence over Season 13 of Idol?
I imagine yes, which is why I've come prepared with five Swedish theme nights that we Idol fans would actually dig next year. So, please, take heed, Per Blankens, so we can say we were brought a great Season 13 per Blankens.
1. Robyn Night
It would be hipster of me to say I loved Robyn before anyone else did, but I also loved her for the piece of pop junk that was "Do You Know (What It Takes)." Still, her career has evolved into dance hit-making (yet she still lives in a tiny house, as Daily Show found), and Idol is ripe for someone to pick up where Adam Lambert left off. Celebrity guest judge that week, however, will have to be Taran Killam.
2. MGM Night
Inspired by Swede Ann-Margret, who lit up the silver screen during MGM and Columbia Pictures' golden age. Numerous Idols have already covered Elvis Presley — why not try to update his Viva Las Vegas' repertoire? Plus, if somebody can deliver a blues version of Seven Brides for Seven Brothers' "Lonesome Polecat," I will die.
3. Jingle Theme Night
Time for our requisite IKEA shout-out! Surely, meatballs and easy-to-assemble furniture has to come in the fold via product placement, so why not tie in big business by having our Idols perform creative versions of commercial jingles? Make fun all you want, but who wouldn't want to see what David Cook could have done with "Five-Dollar Footlong" in Season 7?
4. Broadway Night
Yes, I fully understand the Great White Way is in the United States, but I simply cannot stomach an entire night full of ABBA music. So, instead, let's be inspired by ABBA hit Mamma Mia! and have our Idols tackle some of the most famous Broadway tunes. Hell, based on Constantine Maroulis, Clay Aiken, Diana DeGarmo, Fantasia, and more, it's where half of them will end up anyway.
5. Songs About Food
"Peaches," "Cigarettes & Chocolate Milk," "Cheeseburger in Paradise" — there are so many possibilities! Mostly, we have to reference the Swedish Chef somehow.