Get to Know Rising Pop Star Becky G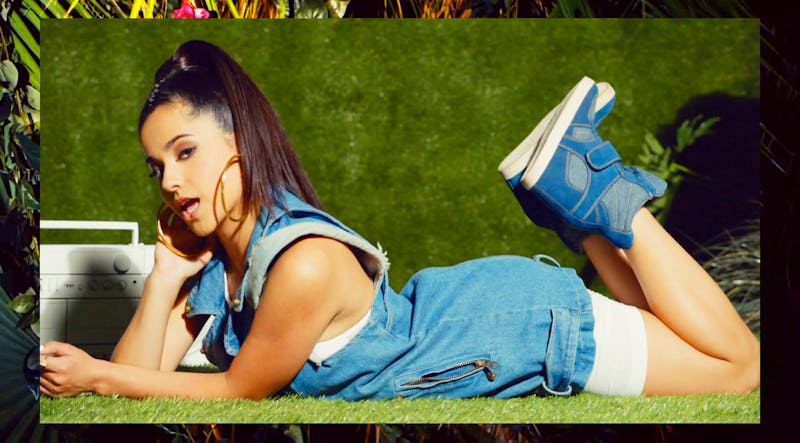 You might not know her name just yet, but 16-year-old singer Becky G's irresistible collaboration with rapper Pitbull, "Can't Get Enough," just topped the Billboard Latin Rhythm Airplay chart, earning the up-and-coming artist her very first No. 1 record. Her adorable solo single "Shower" is currently climbing the iTunes charts, as well. So who is this rising star who has been endorsed by the likes of critically acclaimed rapper Kanye West and music mogul Simon Cowell? Now is the perfect time to find out!
Hailing from Inglewood, California, Becky G (real name: Rebecca Gomez) says that she's been making music since she was only nine years old. In 2011, her creative YouTube covers caught the eye of pop super producer Dr. Luke (Katy Perry, Kesha, Britney Spears), and he quickly signed her to his record label, Kemosabe Records. I guess you could kind of say that Becky is Dr. Luke's protégé.
Since then, Becky has been hard at work in the studio with pop heavyweights like Max Martin (Taylor Swift's "We Are Never Ever Getting Back Together"), Cirkut (Katy Perry's "Wide Awake"), and Ammo (Beyoncé's "Pretty Hurts"). Despite releasing some strong material on her debut EP, Play It Again, last summer, Becky hasn't quite caught on just yet. However, given the recent chart success of "Can't Get Enough" and "Shower," I have a feeling her luck might be about to change.
Let's amp up your summer playlist by taking a look at six of the best songs Becky G has released…so far!
"Can't Get Enough"
My favorite Becky track, hands down, "Can't Get Enough" has such a wonderful lightness and energy to it — the song is undeniable. The fun little "oooOOOHHH-oh-oh!" bit that plays in the background is pretty magical, too.
"Shower"
This song is built around the lines, "You're the reason why I'm dancin' in the mirror, singin' in the shower! La da di, la da da, la da daaa!" How freakin' adorable is that?? Becky's earnest vocal delivery keeps "Shower" from becoming a cheesy mess. Instead, it's just really ridiculously cute.
"Wish U Were Here"
Like "Shower," Becky's collaboration with fellow teen YouTube sensation Cody Simpson is another super catchy, totally delightful ode to puppy love. "I can't wait 'til you come back home, I know it's late, hoped you were by the phone," Becky raps on "Wish U Were Here's" bridge. Ah, young love.
"Play It Again"
"Play It Again" was my introduction to Becky last summer. I have to admit, I wasn't completely convinced at first — but then I couldn't get the song's sweet, sweet pop chorus out of my head. Yeah, this one's a serious earworm.
"Oath"
"You complete me, and that's no lie — you are my tuxedo, and I'm your bow tie," Becky raps on this duet with British pop star Cher Lloyd. The song is about best friends — best friends 'til the very end! Yes, I realize how incredibly dorky that sounds, but somehow, "Oath's" sweet message about two forever pals just works.
"Becky from the Block"
Becky's take on Jennifer Lopez's "Jenny From the Block" tells her story of growing up in Inglewood. Due to financial problems, Becky's family had to move in to her grandparents' garage for two years. Her career has come a long way since then, but Becky will never forget where she came from. J. Lo even makes a cameo near the end of the music video!
If you were boppin' along to any of the songs above, be sure to check out Becky's music page on iTunes. Spread the word! After all, this could be the summer of Becky G.
Image: BeckyGVEVO/YouTube