9 Little Known Facts About 'Dead Poets Society'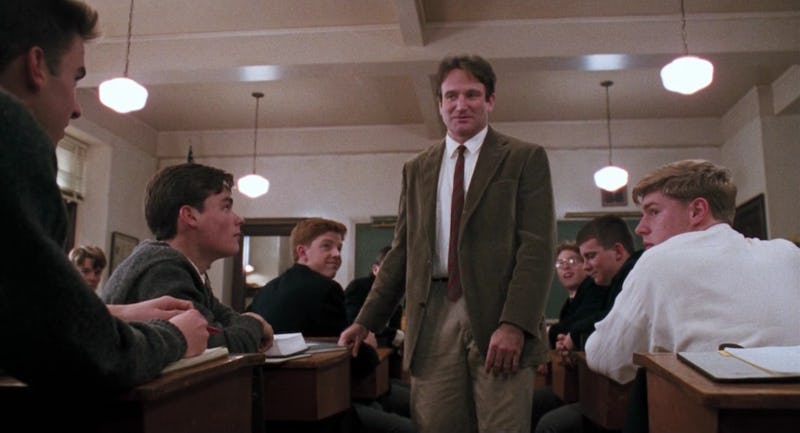 Monday marks the 25th anniversary of Dead Poets Society. The boarding school film has long inspired us to seize the day, and it's succeeded in making quite a few of us cry. The film stars Robin Williams in one of his first dramatic roles as John Keating, a poetic and inspiring boarding school teacher who shows his students how to appreciate art, literature, and life on earth. In celebration of its anniversary, here are nine facts you might not have known about the film. Carpe diem!
1. Mr. Perry's wish for his son Neil to become a doctor came true when the actor who played Neil, Robert Sean Leonard, played Dr. James Wilson on House M.D.
2. The movie was filmed at St. Andrews, a boarding school in Delaware. Robin Williams channeled his character and clowned around with the students at the school.
3. John Keating was supposed to be a more focal role, eventually dying of leukemia at the end, but director Peter Weir chose to shift the focus to the students.
4. Lara Flynn Boyle, best known for Twin Peaks and Men in Black II, had a small role in the film, but it was cut.
5. Dustin Hoffman was originally intended to play the role of John Keating, but Robin Williams stepped in instead.
6. Liam Neeson was also considered for the role.
7. Robin Williams as John Keating can be heard in this spine-tingling iPad Air add:
8. The woman on the centerfold in the cave was Elaine Reynolds, Playboy's Playmate of the Month for October, 1959.
9. John Keating's character was based on Samuel F. Pickering Jr., an English Professor at the University of Connecticut.
Image: Touchstone Pictures