Here's 7 Things To Do After Shaving Or Waxing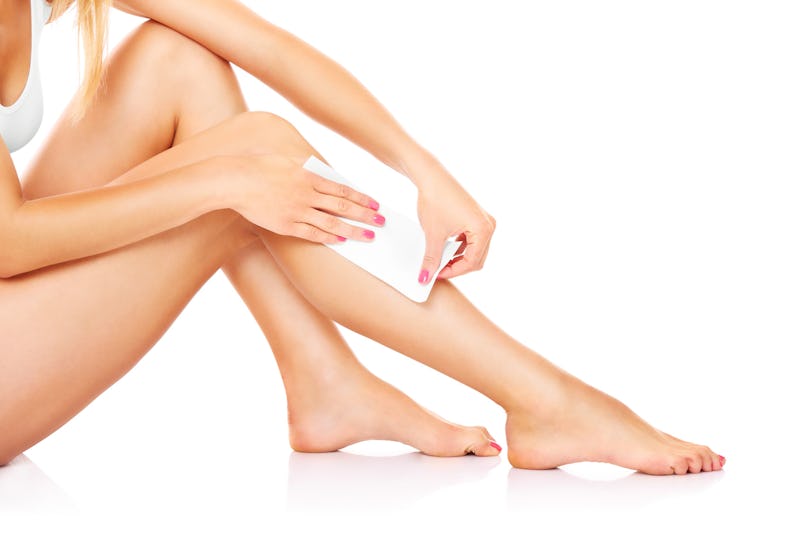 While it is far smarter to avoid the things that cause irritation and sensitivity when shaving or waxing (our guide should help you to avoid any future red bump situation this summer), sometimes an at-home wax turns out badly, an emergency shave goes haywire, or a Yelp recommendation steers you into a seriously dodgy wax session. Here's what the experts have to say about ensuring your hair-free area stays smooth and irritation-free:
Shaving
REHYDRATE IMMEDIATELY
Put moisture back into your skin as soon as you finish shaving, says NYC-based dermatologist Dr. Whitney Bowe. "You want to trap the moisture in right away, so use something like a coconut oil or moisturizers that contain soothing ingredients like colloidal oatmeal or ceramide."
Viva Labs Organic Extra Virgin Coconut Oil, $10.79, Amazon
Aveeno Moisturizing Cream With Colloidal Oatmeal, $11, Amazon
STAY COOL
"There's no hard science behind it, but when your skin gets too hot, the pores tend to swell, and that can lead to clogging and an acne-like reaction," says Dr. Bowe. "Having a lukewarm or cooler rinse after you shave is a better idea."
Waxing
SOOTHE WITH POWDER
If you are feeling tender, raw, or sensitive after a wax, Dr. Bowe offers an easy solution: "Sprinkling some baby powder on the area can be really soothing."
Johnson's Original Baby Powder, $4.25, Amazon
NO HOT TUBS
"Stay away from saunas, whirlpools and baths for the next two days. Try a cool shower instead," says Tanya Lisitsa from The Wax Shop.
WORK OUT BEFORE YOU WAX
Depending on the waxing zone, any movement or tight clothing around the area is going to aggravate it, causing read bumps. "It's best to not exercise after you've had a wax or wear really tight clothing around the affected area," says Lisitsa.
SOOTHE THE SKIN
If your skin is tender one to two days afterwards and you feel like you got a burn, Dr. Bowe suggests using a mild one percent cortisone cream on the affected area.
Natureplex 1% Hydrocortisone Cream, $8.35, Amazon
VISIT THE PROFESSIONALS
However, if you are still experiencing tenderness and burnt skin three to four days afterwards, it could be more serious. "That might signify an infection. So if you've actually ripped off the top layers of your skin, you are predisposed to getting a staff or strep infection," Dr. Bowe says. "If you are still experiencing redness, tenderness, crusting or pain a few days following, you should see your dermatologist to get a culture taken and make sure it's not infected."
Image: © Kalim - Fotolia.com