How to Make Your Own Alcoholic Popsicles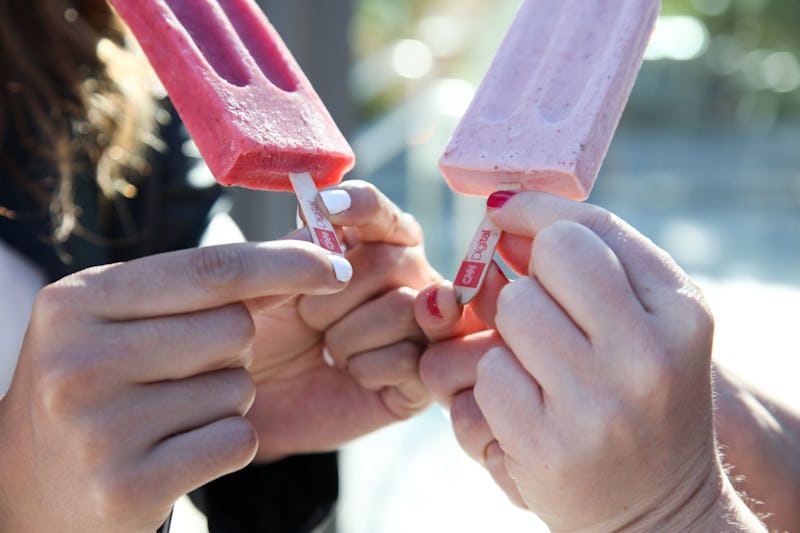 Kelly Sullivan/Getty Images Entertainment/Getty Images
It's summer. It's hot, sticky, and you need to cool off. Ice melts in your drink almost faster than you can take your first sip, and soon enough you're stuck with some watered-down cocktail concoction that has quickly warmed to room temperature. Sound appealing? Nope. The quick solution? Boozy ice pops, of course.
First, you'll need a mold in which to make your frozen cocktails, or poptails. Tovolo Frozen Ice Pop Molds ($12.99, Amazon) work perfectly, and the funky colors look good with whatever creation you're putting on the reusable stick.
While a recipe is certainly helpful in ensuring that your poptail tastes good, a simple ratio will make sure your alcohol freezes successfully. Those of you who store tequila bottles in the freezer understand that a pure liquor pop won't freeze. People's Pops, a New York-based ice pop maker, recommends creating a boozy ice pop with about 20 percent alcohol for the best consistency and flavor. For those of you math experts, that's 1/5. With one shot of booze and four shots of mixers, fruits, etc., you can create your own fun, cocktail-inspired flavors.
For a fruity treat, check out this recipe by Pavan Liqueur de France. A muscat-based liqueur infused with orange blossoms gives your poptail a playful yet sophisticated touch of boozy sweetness.
Pavan Popsicle Recipe
Ingredients:1 part Pavan Liqueur de France5 basil leaves 1 whole kiwi (no skin)¾ parts lemon juice1 part honey Method: Add all ingredients into a blender. Blend for 15-20 seconds. Pour into popsicle molds. Add fresh chunks of kiwi into the molds (optional). Freeze and enjoy!