Lena Dunham Swings From The "Chandelier"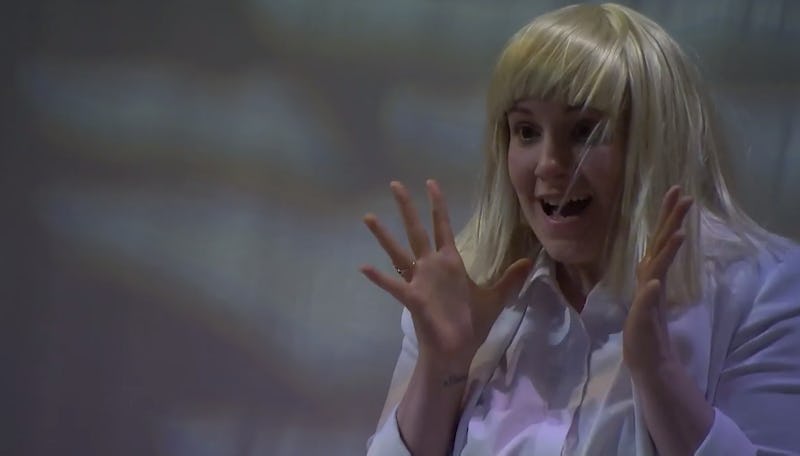 Lena Dunham is a lot of things: actress, director, television producer, and author, to name a few. One title I never thought she'd take on? Interpretive dancer. The Girls creator added that title to her resume on Monday when Dunham performed Sia's "Chandelier" on Late Night With Seth Meyers and it's guaranteed that you've never seen her quite like this.
For those of you who missed the very cool (if also very eerie) music video for Sia's "Chandelier," it features the pint-sized Dance Moms superstar Maddie Ziegler in a blond, Sia-inspired wig and nude leotard. The video shows Ziegler in a rundown apartment dancing wildly as Sia (not featured in the video) sings about living a hard-partying lifestyle — and the sadness that comes the morning after when she's left alone. The video is both beautiful and slightly creepy, and given that Maddie is a phenomenal dancer, absolutely fascinating to watch. It's a truly captivating piece of art.
Dunham is no professional dancer, but you have to give her credit for her own interpretation of the video. She's clearly a fan of the original (and perhaps a Dance Moms fan as well?) and copies the simple arm movements and expressions that Maddie does in the video. Sia actually does make an appearance on Late Night's version of the video — during Dunham's dance, the mysterious Sia is asleep, face down, on a bunk bed.
Though many people will consider Dunham's version a parody of the video, it's not quite that, but more of Dunham's own interpretation. Given that Lena doesn't have Maddie's dancing abilities, she still does a great job at capturing the mood of the story. It's definitely a strange dance, but it's hardly any stranger than Maddie's version.
Dunham may have seemed like a random choice for this video, but it's pretty cool that she really went for it and gave it her all. She's nothing if not enthusiastic about this dance number. Besides, isn't that what Hannah Horvath would do?
You go, girl.
Image: NBC