7 Life Lessons From 'Where the Wild Things Are'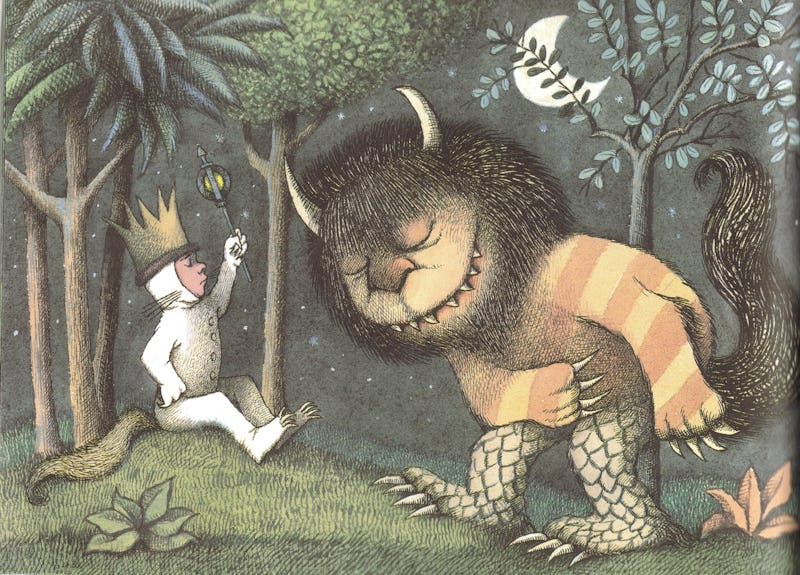 June 10 marks the would-be 86th birthday of the late, beloved children's book author and illustrator Maurice Sendak. He is certainly best-known for his 1963 picture book Where the Wild Things Are, which, despite receiving some negative reviews and being frequently challenged by schools and libraries, was named second on the list of Teachers' Top 100 Books for Children in 2012 and No. 1 on School Library Journal 's Top 100 Picture Books of all time.
It's clear that Where The Wild Things Are has achieved massive cultural significance decades after its release, but more interesting is why. Maurice Sendak has never been one to shy away from darker themes — which is often the reason his books have been banned. In a 2006 interview with NPR, Sendak explains that he puts his children characters in danger because "kids are so shrewd."
Growing up in Brooklyn to Polish immigrant parents, Sendak has said that his childhood was "terrible" due to family losses in the Holocaust. Because of his own experiences, he doesn't see childhood through rose-colored glasses — and neither do his characters, like Where the Wild Things Are's Max. In the NPR interview, he explained:
'Childhood is a tricky business,' Sendak says. 'Usually, something goes wrong.'
For Max, it's that he was angry, and he acted out, and his mom put him to bed without eating. And so he imagined a world around him, full of other wild things, where he reigned as king. But as Sendak intended, the themes in the book aren't just for children. In only 338 words, Sendak keenly observed human nature and imagination. There are seven life lessons from Where the Wild Things Are that even adults should pay attention to.
1. Don't judge someone (or something) by his or her appearance
And the wild things roared their terrible roars and gnashed their terrible teeth and rolled their terrible eyes and showed their terrible claws.
The wild things may have had terrible roars and teeth and claws, but they weren't as terrible as they seemed. They accepted Max into their tribe, despite his small size and non-terrible look, and they all became friends to the point where the wild things begged Max not to leave.
2. There's a Wild Thing in all of us — and that's okay
And it is through fantasy that children achieve catharsis. It is the best means they have for taming wild things.
In various interviews and appearances, Sendak has always maintained that it's okay for everyone, like Max, to have a little bit of a Wild Thing in them. It's what makes you human. Again, like Max, he sees children as finding a release for this wildness through their vivid imaginations, but it's a lesson we adults could remember.
3. There is immense power in imagination
And the walls became the world all around.
As Max imagines a world he wants to live, where he's king and his parents can't tell him what to do, he builds this world around him. Max came to an understanding about himself and his reality with the power of his own fantasy and imagination. Sendak once said something all adults should think about:
Children do live in fantasy and reality; they move back and forth very easily in a way we no longer remember how to do.
4. There's always time in life to let loose
'And now,' cried Max, 'let the wild rumpus start!'
When Sendak appeared on The Colbert Report, Stephen Colbert had one important question for him:
Though the question is in jest, Sendak answered honestly. "Sure!" Rumpus is anything we use to let loose and go wild — something we adults forget to do sometimes.
5. Sometimes, there's no place like home
And Max, the king of all wild things, was lonely and wanted to be where someone loved him best of all.
In the end, even being king of all the wild things couldn't match the comfort and love of home. It's a thought to remember as we all complain about travelling for the busy holidays.
6. Your parents will always have your back, even if they don't seem like it
And [he] sailed back over a year, and in and out of weeks, and through a day, and into the night of his very own room, where he found his supper waiting for him, and it was still hot.
Max imagined the world of the wild things because his mother sent him to bed without any supper when he was misbehaving. But what was waiting for him when he "arrived" back home? His supper, still hot.
7. Love with everything you've got
'Oh, please don't go — we'll eat you up — we love you so!'
The wild things loved Max so greatly, so desperately, they expressed it in the biggest and only way they knew how: to eat him up. Sendak himself was entirely charmed by this idea, to love big and uniquely, as children and wild things would:
Once a little boy sent me a charming card with a little drawing on it. I loved it. I answer all my children's letters — sometimes very hastily — but this one I lingered over. I sent him a card and I drew a picture of a Wild Thing on it. I wrote, 'Dear Jim: I loved your card.' Then I got a letter back from his mother and she said, 'Jim loved your card so much he ate it.' That to me was one of the highest compliments I've ever received. He didn't care that it was an original Maurice Sendak drawing or anything. He saw it, he loved it, he ate it.
Images: Maurice Sendak/Harper and Row; Etsy; Giphy; Giphy; Etsy