7 Insanely Ridiculous Abercrombie Ads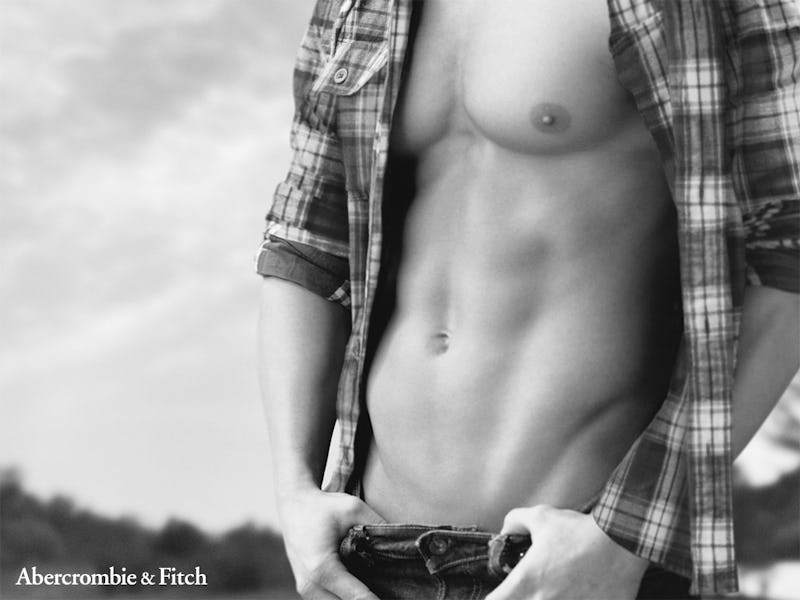 Whether you shop at Abercrombie & Fitch or not, chances are you've at least been overwhelmed by the cologne and pop music that wafts through its doors and permeates throughout the entire mall. Employees walk around the store spritzing the clothes with the brand's signature fragrances, the store blares music at deafening levels with dim lighting, and without even entering the store, you can come face to face with poster-sized abs advertising the brand's clothing. And such ads made clear to both shoppers and non-shoppers alike is that Abercrombie & Fitch's former CEO, Mike Jeffries, believed that the target demographic was the "cool kids."
In regards to who the company is interested in marketing to, he famously said, "Abercrombie is only interested in people with washboard stomachs who look like they're about to jump on a surfboard." Like, not even trying to be subtle: Nerds not welcome here. Whether or not everyone in the company agreed with this general anti-dork attitude or not is unknown, but its black and white campaigns and poster advertisements were a direct reflection of that quote. Although Abercrombie is now changing the way the brand is presented on its site and in advertisements in order to re-brand, I'll always remember it as the store I was apparently never pretty enough to be asked to work at. To celebrate their former exclusivity, here are seven past advertisements that show what the brand used to be all about.
1. A&F The Making of a Star
One of Abercrombie's many black and white (not to mention sexual) advertisements.
2. An Ad for Denim...I Think
It appears this ad is for the brand's denim and belts, but there's only a portion of the jeans showing and a whole lot of skin on display.
3. The Infamous Jean Skirt
Jean skirts had a major moment in fashion when I was a freshman in high school. The hallways were full of girls wearing denim skirts year round — when the weather got colder, those skirts were paired with UGG boots. This ad shows the jean skirt in all its glory. PS: No your eyes are not playing tricks on you; that is January Jones as Abercrombie model.
4. Naughty or Nice?
Yes, Abercrombie is a clothing company. No, there are no clothes featured on this billboard. Yes, you are probably starting to see a pattern here.
5. Minus Clothes, Plus Convertible
Three's company in this A&F Quarterly advertisement, featuring two naked male models, one underwear clad Malin Akerman, and a colorfully painted convertible. The ad is complete with fit and toned bodies and bright smiles.
5. Bags Include Clothes on the Inside and Unclothed Models on the Outside
These must be those washboard abs Jeffries was referring to.
6. #ABERCROMBIEHOT
The brand's ad for Tumblr highlighting more of those washboard abs, ready to jump on a surfboard.
7. Kellan Lutz & A Beetle
Kellan Lutz was once an Abercrombie model getting in tune with nature, posing with a beetle, and representing the A&F brand.
Images: Abercrombie & Fitch; eonline.com; BuzzFeed (3); dailybillboardblog.com; nydailynews.com; anfnewsnow.blogspot.com