A Terrible Day For Cheese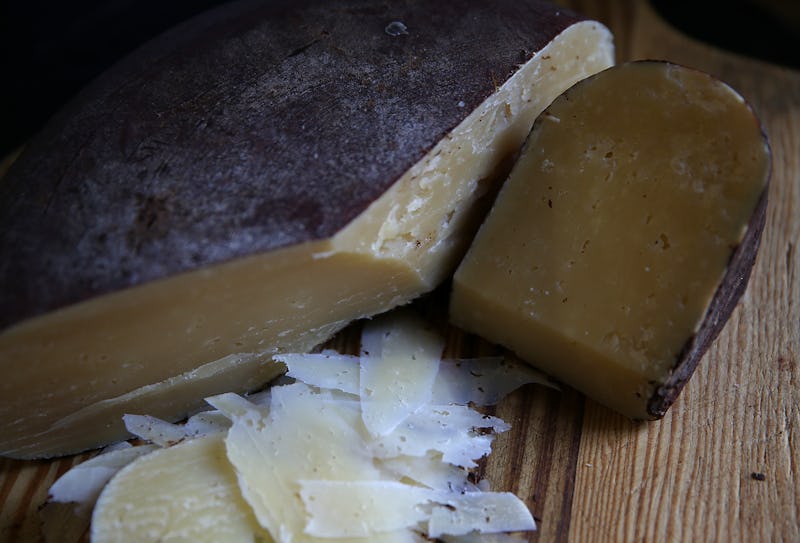 Justin Sullivan/Getty Images News/Getty Images
Like us, you'd probably trade a limb for a really good block of aged Gouda — so get ready to be livid. On Monday, the FDA banned the aging of cheese on wooden boards, a tradition that's been used for centuries. For us decent cheese (read: non-processed) fans, this means an uncertain future for the cheeses we know and love. But not so fast! Before the new policy was implemented, our brothers and sisters in the cheese nation rose up in defense of the artisanal cheese industry, and now the FDA is backing down.
The FDA's reason for its new policy states that the wooden boards used to age cheese are potential breeding grounds for bacteria, which could contaminate the final products. In a statement, the FDA said:
The porous structure of wood enables it to absorb and retain bacteria, therefore bacteria generally colonize not only the surface but also the inside layers of wood. The shelves or boards used for aging make direct contact with finished products; hence they could be a potential source of pathogenic microorganisms in the finished products.
Last we checked, cheese itself is a breeding ground for bacteria (good bacteria) — or at least that's true of real, non-processed cheeses.
A day after the FDA made its upsetting announcement, the cheese industry and cheese consumers rolled up their sleeves and prepared to brawl with the federal agency to stop the policy. There's a petition on WhiteHouse.gov urging the Obama administration to get involved, and it's collected nearly 3,500 signatures.
Reddit started a thread about the possibility of future speakcheesies, where one would be able to go and enjoy a slice of illegal aged cheese. The American Cheese Society issued the following statement.
The American Cheese Society (ACS) strongly encourages FDA to revise its interpretation of the Code of Federal Regulation (21 CFR 110.40(a)) to continue to permit properly maintained, cleaned, and sanitized wood as an aging surface in cheesemaking as has been, and is currently, enforced by state and federal regulators and inspectors.
If this sounds like the most dramatic sequence of events in the history of cheese, that's because it kind of is. For the love of cheese, here's what you need to know...
Who Would Be Affected by the Policy?
If it had been enforced, the FDA's restrictions on using wooden boards to age cheese would have affected the entire artisanal cheese industry, and not just in the U.S. The new rule may have prohibited the importation of cheeses from Canada and Europe, as the majority of imported artisanal cheeses from those areas are also aged on wood. In fact, some foreign cheeses are required to be aged on wood as part of their identity, like Comte, Beaufort, and Reblochon.
OK, if this could have meant no more French cheese in my mouth, then I would have dealt with the FDA myself.
Who Wouldn't Be Affected?
While this new policy could have potentially halted the entire artisanal cheese industry, which means thousands of small businesses, the cheese makers (if you can even call them that) that wouldn't be impacted would have been — surprise, surprise — the big corporations. This means corporate cheese manufacturers like Kraft and Leprino, who clearly don't follow centuries-old practices to make their neon orange cheese in cans.
Why Does This Cheese Rule Reek of Something Fishy?
Under the federal Food Safety Modernization Act, the FDA is supposed to follow a certain "notice and comment rulemaking process" when debating a new policy. According to its site, it's common for the FDA to hold "public meetings to give all interested parties an opportunity to participate and provide comments even before proposing a rule" and the administration even encourages comments from the public.
However, this process was thrown out the window when the FDA issued its statement on the new policy against aging cheeses on wood, thus throwing the entire cheese community into a state of shock and fury.
The Future of Aged Cheese
It seems that the FDA took our protests seriously, as it issued another statement on Tuesday, per Forbes, that shows it's coming to its senses.
The FDA does not have a new policy banning the use of wooden shelves in cheese-making.... FDA is always open to evidence that shows that wood can be safely used for specific purposes, such as aging cheese. The FDA will engage with the artisanal cheese-making community to determine whether certain types of cheeses can safely be made by aging them on wooden shelving.
This isn't just good news for us, but it's also good news for the administration, because they would not have liked dealing with me and my cheese cravings.