You Know You're a Wesleyan Student If...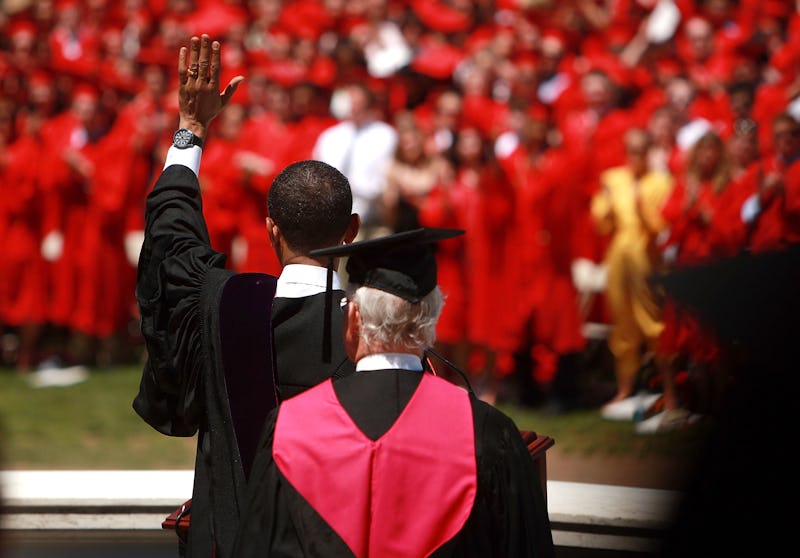 Spencer Platt/Getty Images News/Getty Images
Real talk: Wesleyan University is pretty much the coolest place in the world. Not only did Ted, Marshall, and Lily (and, in 2030, Marvin as well) from How I Met Your Mother attend Wesleyan, but there are several other notable alumni — including Joss Whedon, MGMT band members, and Dar Williams — that attended the school. Not to mention, students in the class of 2008 were lucky enough to have Obama as their commencement speaker.
Clearly, all of this makes Wesleyan one-of-a-kind, so it comes as no surprise that students often find themselves using phrases such as, "only at Wesleyan" or "keep Wes weird" on a daily basis. And did I mention that the students at this "little Ivy" are brilliant? I mean, how else would they have been accepted to Wes? Students thrive off of the "work hard, play hard" mentality. And it works — just take a look at those alumni again! But we're not all about academics. In fact, Wes definitely has some traditions of its own — what other school has a casual naked party? NBD.
But really, the best part about Wesleyan? The fact that, for four years, you are a Cardinal... and are pretty damn proud of it. If you are lucky enough to have graduated from Wesleyan — or perhaps you attend the university now — you know what I'm talking about. There are just some things that only us Cardinals truly understand.
YOU'VE PROBABLY BRAGGED (RIGHTFULLY SO) ABOUT BEING A "LITTLE THREE" SCHOOL ALONG WITH AMHERST AND WILLIAMS.
WE DON'T JUST HAVE A HILL IN THE CENTER OF CAMPUS. IT HAS A NAME: FOSS.
And it looks picture-perfect with snow on top of it.
SPEAKING OF SNOW, IT DOESN'T MATTER HOW MUCH THERE IS BECAUSE CLASS WILL NEVER BE CANCELLED.
Two feet of snow? Better get up for your 9 a.m. Chop, chop!
A CLASS OF 100 OR MORE STUDENTS SEEMS LIKE A COMPLETELY ABSURD CONCEPT.
MAKING THAT 10-MINUTE STROLL ACROSS CAMPUS FROM EXLEY TO THE CFA FEELS LIKE 10,000 MILES.
YOU CERTAINLY HAVE A PREFERENCE BETWEEN STUDYING IN OLIN OR SCI LI.
AND YOU LOVE TO CREEP ON THE STUDENTS STUDYING IN THE 24/7 FISHBOWL.
Especially at 2 a.m. on a Saturday when you're cutting through Exley to get from the Butts to Clark.
DON'T KNOW YOUR MAJOR YET? IT'S OK. MOST OF YOUR CLASSMATES PROBABLY DON'T EITHER.
YOU HAVE HAD TO EXPLAIN TO SEVERAL PEOPLE THAT NO, YOU DO NOT GO TO THE SAME SCHOOL THAT HILLARY CLINTON GRADUATED FROM.
It's Wesleyan, NOT WELLESLEY.
AND ON THAT NOTE — YES, THE SCHOOL IS CO-ED.
DECIDING WHETHER OR NOT TO LIVE IN A PROGRAM HOUSE IS A STRUGGLE.
Art House, Buddhist House, Chinese House, Earth House, Farm House, Music House, The Bayit, Womanist House… How will you ever decide?
AND IF YOU CHOOSE A RESIDENTIAL DORM, YOU STILL HAVE TO DECIDE WHETHER OR NOT TO LIVE IN A PROGRAM HALL.
Film Hall, French Hall, Japanese Hall, Science Hall…
THE CONCEPT OF LIVING OFF-CAMPUS IS FOREIGN TO YOU.
YOU HAVE PROBABLY ASKED YOURSELF WHAT IT WOULD BE LIKE TO GO TO A SCHOOL WHERE GREEK LIFE WAS MORE PROMINENT.
YOU CAN'T TAKE THE WORD "FOUNTAIN" SERIOUSLY.
You're drinking out of the water fountain? LOL. Fountain is a street name — one of the best streets on campus, of course.
AND YOU HAVE COME TO TERMS WITH THE FACT THAT IT IS NOT UNUSUAL FOR A PARTY TO COME TO AN IMPROMPTU END DUE TO A FIRE ALARM GOING OFF.
BUT THAT JUST MEANS YOU'LL GO TO ANOTHER PARTY DOWN THE STREET. #SMALLCAMPUSESROCK
OR POSSIBLY THE FALAFEL TRUCK OR WHEY STATION. LATE NIGHT FOOD TRUCKS ARE UNBELIEVABLY CONVENIENT.
WHEN YOU USE THE RESTROOM, YOU DON'T EVEN BOTHER TO LOOK AT THE SIGN ON THE DOOR.
So not all schools have gender neutral bathrooms?!?!?!
THE THREE DAYS OF WESFEST ARE BASICALLY CONSIDERED NATIONAL HOLIDAYS.
You'll probably even pretend to be a pre-frosh, because they are way cool. Or at least befriend a few and persuade them to go to Wes.
YOU HAVE CONTEMPLATED BECOMING A VEGAN/VEGETARIAN ON MULTIPLE OCCASIONS (PROBABLY THANKS TO PEER PRESSURE).
YOU UNDERSTAND THAT WAITING IN LINE FOR AN OMELET AT BRUNCH IS SO WORTH IT.
AND ONCE YOU GET THAT OMELET, YOU KNOW WHICH SIDE OF THE CAFETERIA YOU WILL SIT ON.
Hipster side or jock side?
BUT SOMETIMES YOU WILL SPLURGE AND WALK ONTO MAIN STREET, WHERE YOU WILL NEED TO DECIDE WHICH ASIAN RESTAURANT YOU ARE IN THE MOOD FOR.
YOU CONSTANTLY REMIND YOURSELF THAT THERE ARE SPORTS TEAMS HERE. AND HEY, THEY AREN'T TOO BAD.
A football field and baseball diamond in the center of campus help reinforce this knowledge.
AND EVERYONE IS GOOD-LOOKING. SERIOUSLY.
Proudly reppin' No. 19 on the list of colleges where students are both hot and smart.
COFFEE IS A MEAL, AND IT'S ACCEPTABLE TO DRINK IT AT ANY HOUR.
Pi Café closes at 9? Good thing Espwesso opens at 9!
AND IF YOU SNAG A TABLE AT PI, YOU SECRETLY JUMP FOR JOY.
YOUR LIFE CHANGED THE MOMENT YOU DISCOVERED P-SAFE AWARENESS REPORTS.
YOUR MOST FREQUENT CALL IS PROBABLY MADE TO THE RIDE.
THIS VIDEO WILL NEVER GET OLD.
AND NEITHER WILL THIS ONE.
BUT MOST OF ALL, YOU'RE PROUD TO BE A CARDINAL.
Image: j_bary/flickrGifs: 1, 2, 3, 4, 5, 6, 7, 8, 9, 10, 11, 12, 13, 14, 15, 16, 17, 18, 19, 20, 21, 22, 23, 24, 25, 26, 27, 28, 29, 30, 31