Yes, Clogs Are Back — Here Are 5 Ways To Wear Them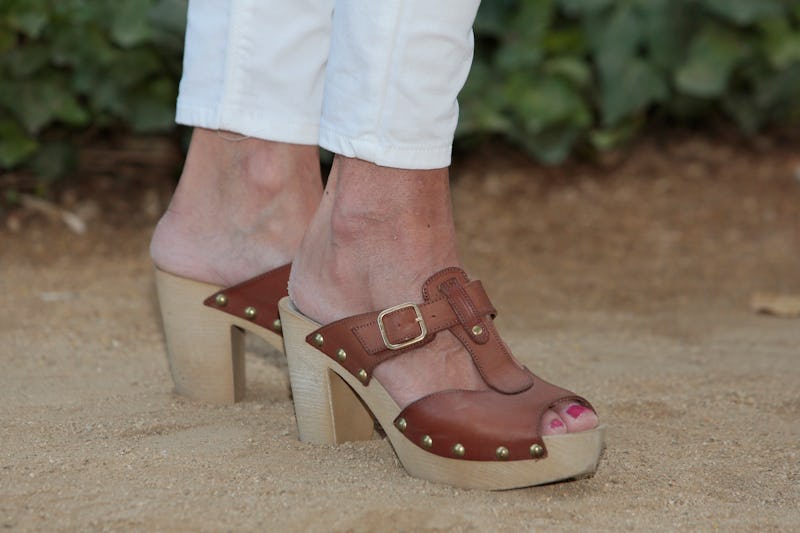 Miquel Benitez/Getty Images Entertainment/Getty Images
The dream of the '90s is alive...on our feet. In clog form. Yup, they're back, and whenever another
'90s fashion trend comes back into style, I'm always skeptical at first. There's a reason people don't wear scrunchies anymore. It's giant wad of fabric on your head. Kind of like a weird little hat. But inevitably, months later, the American Apparel ads and people on the L train wear me down and I catch myself thinking, "Huh, this is cute and quirky. Maybe I could look okay in it." From scrunchies to jellies to floral jumpers, if I haven't tried them myself, I've eventually come around. Now, I'm coming around to clogs — and not just because Vogue said this:
It's the shoe for those of us who appreciate the lines of a mule (the added length to the leg, the exposed ankle-bone) combined with the cavalier demeanor of a spa sandal. These are not the crocs of Mario Batali, not a flash-in-the-pan hashtag-emblazoned trend — these are the shoes of indisputably epic summer style icons from Jane Birkin to Marcia Brady: the lower-leg equivalent of a bronzed shoulder peeking out of a peasant blouse, an ankle reveal between a cropped jean and a classic clog.
Yes, forget the fact that you wore the Payless Shoes kind in fifth grade, and be fearless — like clog-wearing Kate Moss. Here are a few outfit ideas for pulling off the no-longer-fugly footwear.
1. Pair them with skinny jeans to balance out your silhouette
2. Toughen up a sweet dress
3. Show off your legs on the beach
4. With a knee-length skirt, wear daintier clogs
5. Choose clog sandals if you don't want a super-heavy shoe
Images: Polyvore