8 Beauty Supplements To Feel Pretty Inside And Out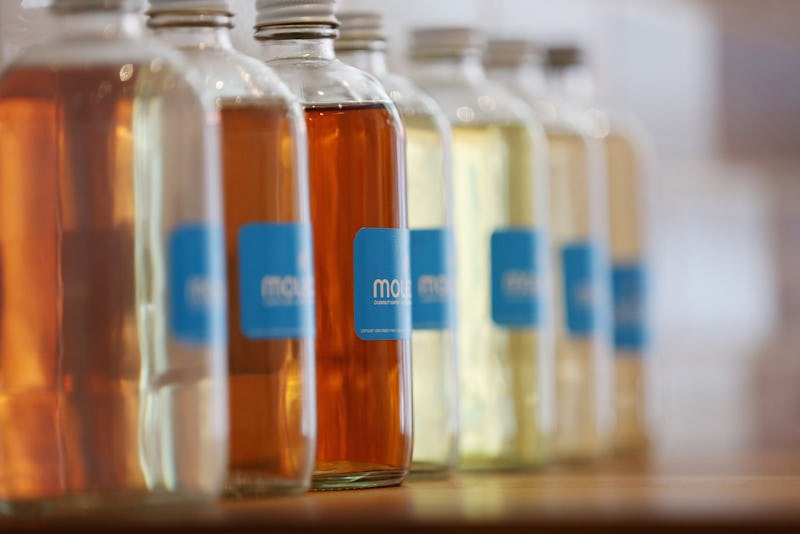 Mario Tama/Getty Images News/Getty Images
Mom always said that beauty comes from the inside, which means that the expensive serum I pressed onto my face this morning was probably negated by the frozen pizza I ate last night. Don't get me wrong, I know, on an intellectual level, that eating broccoli and Greek yogurt and avocados will help my skin just as much as the perfect facial moisturizer, but life's fast-paced and sometimes I just can't make or buy or even think about a salad. I just can't.
This is why I'm kind of a fan of beauty supplements. They may feel a bit ridiculous and overly luxurious, but they're not crazy. Most are packed with vitamins and nutrients that your whole body can benefit from, not just your wrinkly little forehead. And I'm not talking about your garden variety multivitamins, either. The world of beauty supplements has been booming lately; now, you can find a (mostly natural) pill for whatever beauty-related condition ails you, from slow-growing hair to weak nails to not being Beyoncé. (That last statement has not been evaluated by the Food and Drug Administration.)
Isn't the idea of pill-popping your way to better skin kind of sci-fi and alluring? These supplements are definitely not a substitute for a healthy lifestyle — and it's always a good idea to let your doctor know what kinds of pills you're taking — but on those frozen-pizza kind of days, at least you've know you've done something right.
The beauty goal: Smooth, hydrated skin.
The supplement: Beauty Nectar by Ashieda , $40, Amazon
Drinking collagen sounds like something out of a sci fi movie, but the future is here, baby. Your skin is composed of about 75% collagen protein, and the breakdown of collagen plus the slowdown of collagen production is what leads to wrinkles and skin aging in general. The thought behind this supplement? Drinking back some of that collagen protein results in stronger, more elastic skin, and Ashieda has done the clinical studies to bolster that theory. (Of course, some doctors disagree, saying that ingesting collagen doesn't mean it will be delivered to your skin, so proceed wisely.)
The goal: Rapunzel's long, long hair.
The supplement: Aviva Advanced Hair Growth System , $30, A mazon
The thought behind hair supplements runs as follows, I believe: Hair's dead, but the follicle isn't, so supplements deliver nutrients to the follicle which in turn leads to better hair in the long run. Did I pass the hair supplement test? Aviva's hair vitamins bolster your hair with ingredients like silica and biotin, along with crazy hippie things like saw palmetto berry and the Ayurvedic herb ashwagandha. Personally, I've been popping Aviva for about a month now, and my hair has definitely grown significantly — I also want to say that it's gotten thicker, but I think it may be too soon to tell. Still, I'm happy to stay on this beauty train for a while.
The goal: Ageless skin.
The supplement: MitoQ Targeted Anti-oxidant , $70, Amazon
Ready for some real science? I'll let the experts take this one away: "Every cell in your body is powered by small organelles called mitochondria. They take glucose from the food you eat and oxygen from the air you breathe and convert them into the energy your cells need to keep your organs functioning. Mitochondria also co-ordinate cell communication, cell death, cell growth and cell differentiation, and use antioxidants to fight the effects of free radical damage and oxidation…. As oxidative stress damages the cells in your skin and other organs you might start to look and feel older…. MitoQ is a Mitochondrial Targeted Antioxidant that delivers antioxidant CoQ directly to your mitochondria, supporting their natural function and restoring their health. This means they can get on with their job, eliminating free radicals, preventing oxidation, and keeping your skin and organs healthy." In short, this is the supplement for you if you're really serious (or paranoid?) about keeping your skin youthful.
The goal: The perfect manicure.
The supplement: HUM Killer Nails , $20, Amazon
Biotin has been used to strengthen animal's hooves — an un-glamorous fact that proves just how effective this little supplement can be. Strengthen your own pretty hooves and hair with the Killer Nails supplement, which provides 5000 mcg of biotin in every dose.
The goal: Completely clear skin.
The supplement: Jane Iredale's Skin Accumax , $115, A mazon
One annoying fact of life? Plenty of grown-up ladies are still fighting acne. This supplement promises to help, combining Vitamins A and C with a highly-active phytonutrient found in broccoli, Brussels sprouts, cabbage and kale. It also doesn't require a prescription. The brand advises those with serious acne to take 4 pills a day for at least ten to twelve weeks, though you can take a lower dose if you're just concerned with mild or occasional breakouts. You can also use the supplement as a preventative measure to keep your skin clear and healthy.
The goal: An all-over beauty boost.
The supplement: GLOW Vitamin Bubbles, $4, Nutrilux
There are plenty of all-over beauty supplements on the market, but are you sure you're getting all the benefits that they promise? Vitamin Bubbles comes in a bubble form with a liquid core, because your body absorbs liquid vitamins faster and better than solid ones. These particular vitamins are packed with horsetail, evening primrose oil, grapeseed oil, and a ton of vitamins all designed to beautify your body and, more importantly, be absorbed by it.
The goal: Happiness without the suntan.
The supplement: HUM Here Comes the Sun , $156, Amazon
You know how being in the sun makes you feel happier? But being in the sun too long means redness, peeling, increased risk of skin cancer, and more wrinkles? (Ugh.) If you're far from the beach or just trying to protect your skin, this supplement is full of D3 — the vitamin your body produces when exposed to the sun.
The goal: More effective beauty supplements.
The supplement: Fulphyl de M., $220, Phylia
Okay, now we're getting into crazy-beauty-editor territory, but this lovely, all-natural, drinkable supplement is pure fulvic acid, produced from fermented, organic fruits and vegetables. Here's what it does, according to the brand Phylia de M.: "Fulvic acid is an incredible multi-use healer…activating the full potential of the nutrients you consume, fulvic acid carries nutrients to the correct cells within your body. It also assists cells in becoming more permeable and receptive to those nutrients. Not only that, but fulvic acid is also a highly effective chelator, removing harmful toxins and free radicals and encouraging cell health and regeneration." So basically, it's an ingredient you've never heard of, it's completely natural, and it makes everything a little bit better. That's just the kind of utopian beauty supplement fantasy that gets me every time.