Is ABC Leaking Fake 'Bachelorette' Spoilers?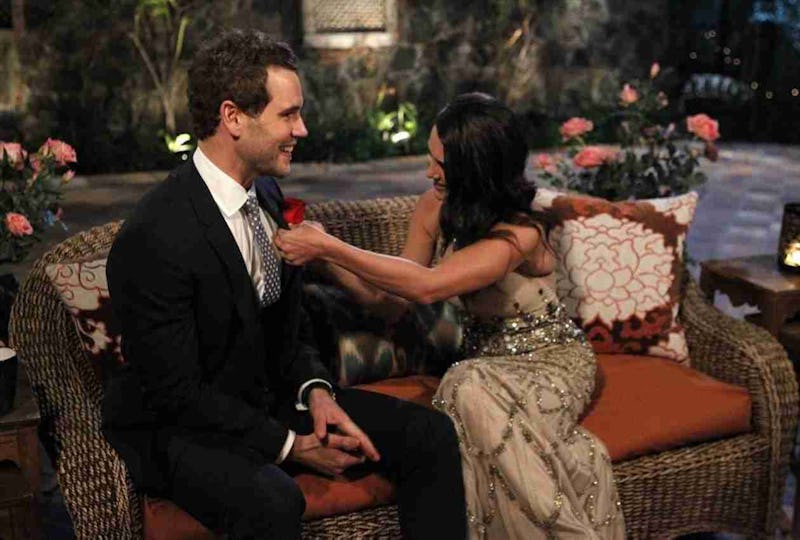 When The Bachelorette is in season, so is major drama. This is a fact. However, it sounds like this time around, it's not just Andi Dorfman and her guys who are bringing the dramz — there's drama in the Bachelorette web community, as well. If you follow the Bachelorette religiously (and since you're reading this, I bet it's safe to say you do), you already know we'd all be lost without Reality Steve. His website is a trove of Bach info, usually months before the season even airs. I mean, the guy has an episode-by-episode guide of how Andi's season is going to go down, and in remarkable detail to boot. How does he do it?
With the help of a lot of anonymous tips and videos like the one that Reality Steve recently leaked of contestant Nick Viall on a plane, talking shit about Josh Murray, who Steve says (much to our dismay) is the winner of The Bachelorette this season... and our dear Andi's heart. But I'm not exactly sure this video is the real deal; there are a lot of reasons this doesn't add up.
So in the video, someone (presumably an eavesdropper who managed to recognize Nick sans tuxedo and rose) filmed a phone call Nick made just two days after the final rose ceremony, where Josh supposedly won and Nick lost, venting about how much he doesn't like Josh and how he really thought Andi would choose him. It's all very juicy and would be a super exciting and scandalous spoiler if it didn't seem, oh, about 100 percent fabricated by ABC.
Here's the thing: There's way too much serendipity involved in the process of this video making it from somebody's iPhone to our computer screens for it to be a real thing that actually happened. First of all, the eavesdropper would've had to know who Nick was and why the names Josh and Andi were significant for him to be talking about before the season even aired, since the video was aired May 11 — a good eleven days before the show kicked off on May 22. Second of all, the eavesdropper would then have to know to send the vid to Steve. The chances of a Bachelorette mega-fan being seated that close to Nick on a plane? Sounds impossible.
This is just a theory, but if you ask us, ABC is obviously trolling. Year after year, Steve has been spoiling The Bachelor and The Bachelorette, and there's no way the Powers That Be at the network appreciate the surprise being taken out of every season finale. What they probably do love? The extra publicity Steve creates for the show, and what better way to stir the pot than to have Nick (who might actually be the real winner? Maybe?) stage an incredibly revealing conversation while seated in front of someone who works for the show, who would then pass the video on to Steve to share as a spoiler and throw everyone off well before the season finale airs?
I'm not sure who or what to believe at this point, but we still have a long way to go this season. I'm taking any and all spoilers with a heavy grain of salt from now on... and keeping my fingers crossed that Josh isn't actually Andi's Prince Charming in the end. Because who wants that?
Images: ABC; Giphy