How to Make Red, White, and Blue Cocktails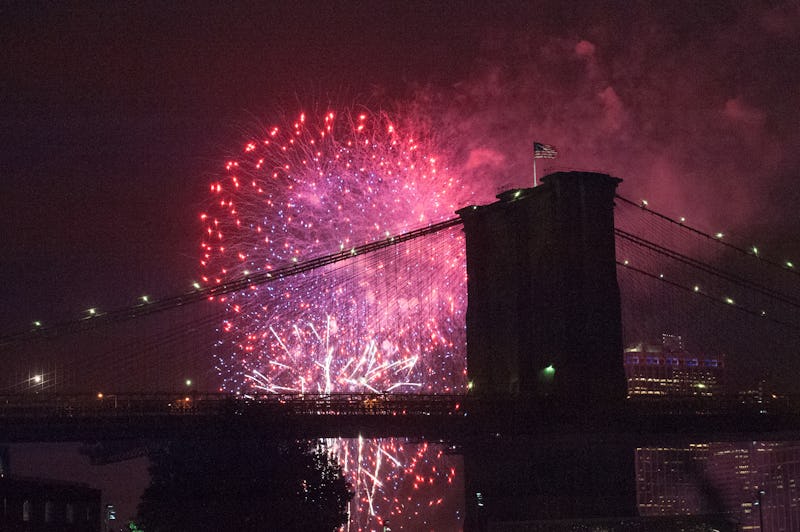 Stephanie Keith/Getty Images News/Getty Images
Drinking may be one of our nation's greatest pastimes, so why not celebrate with patriotically colored cocktails? You could make three flavors of blended margaritas — think raspberry, blueberry, and coconut, and layer them on top of each other for a pretty striped pattern — or just add blueberries and strawberries to a chilled pitcher of white wine.
Looking to get a bit more advanced? As you probably learned in high school science class, liquids balance on top of each other based on density. If you use a heavy layer like coconut milk at the bottom of your cocktail, followed by something lighter like cranberry juice, then topped with a colored vodka or blue caracao liqueur, you can achieve some ultra-American beverages.
If you don't trust yourself to come up with your own recipes, here's a practically fail-proof combo that will give you red, white, and blue layers (bonus if you can figure out how to add stars) in your Independence Day drinks.
Layered Patriotic Punch
Ingredients
Sobe Pina Colada Flavor (or pure coconut milk)
Gatorade Fruit Punch Flavor
G2 Gatorade Blueberry - Pomegranate
1 shot Whipped Cream Vodka
Instructions:Fill glasses to the brim with ice then pour the drink with the highest sugar content into the cups (Sobe Pina Colada) until one third full. Follow with Gatorade Fruit Punch and top with G2 and Vodka!
This recipe works because it goes from highest sugar content to lowest. Look at your bottled beverages and try mixing one up yourself. Or, recreate one of these drinks below.
Image: punchbowl.com, tumblr/itspartyrehab