What Makes Something A 'Cult' Beauty Product?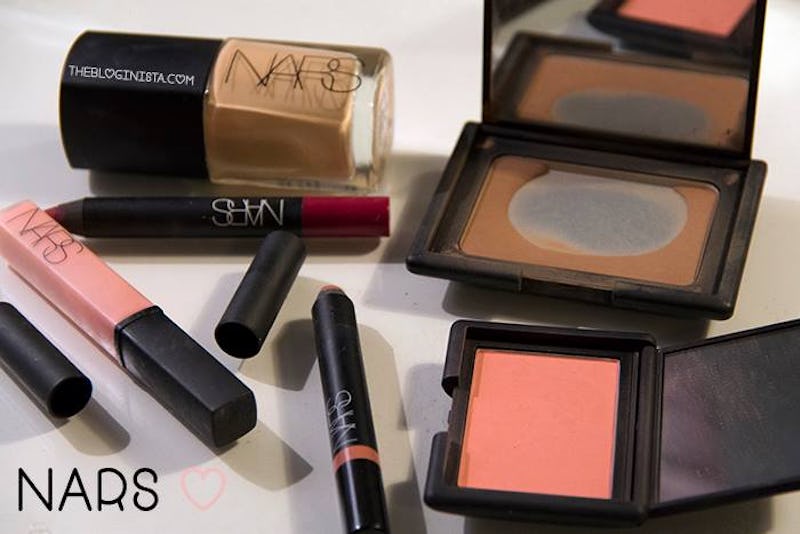 Even if you don't consider yourself a makeup connoisseur, chances are you've heard of some of these "cult" beauty products before (can you say NARS Orgasm blush)? They've graced the pages of magazines, labeled as beauty editors' top picks, and these products often seem to be sold out at beauty counters due to their high demand.
One of the first two beauty products I recall to have gained a cult following in recent years was MAC's Angel lipstick and NARS Turkish Delight gloss. This lip combo was made famous after Kim Kardashian revealed these were the products she used to achieve her signature pinky-nude pucker. More recently, there was the explosion of the Urban Decay NAKED palette (followed by NAKED 2 and 3), which have quickly become staples in the beauty arsenals of makeup artists, bloggers, and beauty enthusiasts everywhere.
Aside from major celebs like Kim Kardashian mentioning her go-to beauty products, how else do cult beauty products gain their following? I guess that answer is up for debate, but I believe the online beauty community has a lot to do with it. There are YouTube channels dedicated entirely to beauty product reviews and tutorials, and some of these channels have over a million subscribers. Personally, I read reviews and watch videos/demonstrations of almost every product before purchasing, and I wouldn't feel comfortable relying on just a plain old advertisement to "sell" me on something new. We begin to trust the endorsements of self-proclaimed beauty experts, and if enough people have the same opinion about a product, it gains a cult following.
Take the Anastasia contour palette, for instance. Anastasia as a brand has been known for their brow products, but they've recently branched out into new beauty territory, including a highlighting and contouring palette. I'd been hoping to snag one for my freelance kit, but every time I checked Sephora's website to order, it was completely sold out. I finally was able to order one last week, but it sold out in 15 minutes after it was re-stocked. The high demand for this palette may be due to the fact that major YouTube beauty gurus like Jaclyn Hill have been seen using this palette in recent tutorials.
Another often impossible-to-find product? The NARS "Ita" — a brush that makes contouring easy and is cut straight to help create that defined line underneath the cheek bones. It's so popular that many people actually thought this product had been discontinued due to the fact that it was unavailable virtually everywhere after appearing in many YouTube tutorials. The article also offered a variety of similar (and nearly exact) alternatives to the Ita, but six months later the Ita still remains difficult to find.
NARS should be used to their brand having a cult following, though — their blush in the shade "Orgasm" was so popular that NARS ended up creating an entire collection based off this best-selling blush. It now includes lip glosses, illuminators, and even a nail polish.
While a cult following is certainly a great endorsement for a product, the only way to be sure is to test it out yourself and make your own determination. Have you ever been let down by a cult favorite beauty product? Tweet me and let me know!
Image: Alexandra Kozinski