How Many Of These Are Actually Makeup Free?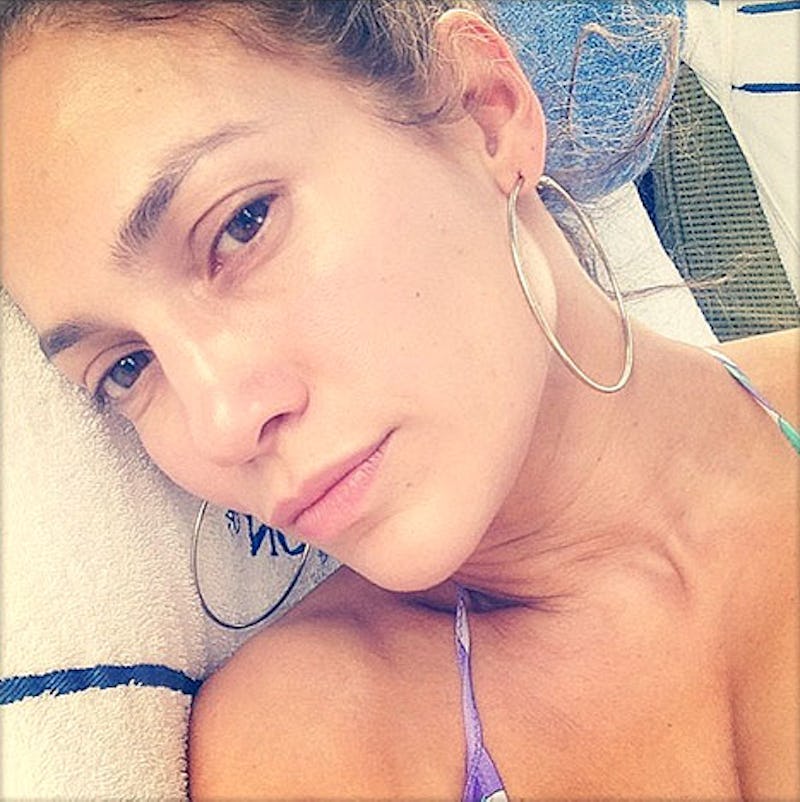 Yesterday Jennifer Lopez posted a selfie that's been blowing up the internet. The-World-Cup-theme-song singing diva made waves by posting a by-the-beach selfie of her in a bikini. Her rockin' bod isn't the topic of conversation, however, it's actually her makeup-free face. Or that's what she claims. I try to love J. Lo, and I hope I'm as youthful and active as she is at her age, but something seems fishy about her pool-side pic. In fact, I'm slightly disappointed by the pop star. Is it just me, or is her "natural face" beyond perfect? Something seems unnatural about the glow she's giving off, and I suspect there are actually some products on her skin.
It's clear that she's sans mascara or liner, and I don't think she used bronzer, but I do think that J. Lo has, at least, some concealer and possibly BB cream on. I love the natural look of her brows and her simple hoops, but I think that the star, among others, is doing more harm than good by claiming a #nomakeup selfie when, indeed, most people don't look like that with no makeup on.
J. Lo isn't alone though. Stars such as Beyonce, Jennifer Aniston and Rita Ora have all posted makeup-less pictures that look a little above average. I'm not quite convinced they "woke up like this." What do you think? Are they really just outrageously lucky to be blessed with a perfect face? If so, I'll just be over here crying for the rest of eternity.
Jennifer Lopez
Another makeup-free photo snapped poolside, though her rosy cheeks do look slightly more natural than the other pic.
Rita Ora
#NoMakeup means Rita Ora's lower lids have natural liner. To be fair, it could be leftover from the night before, so I'll give it to her.
Rihanna
That fabulous glow! Is it really all natural? Probably.
Jennifer Aniston
Aniston is no doubt seriously stunning, but those brows are looking pretty defined to be completely powder free.
Beyonce
Yeah, I buy this one. You're flawless, Bey.
Images: Instagram