You're Going to Want to Watch This Trailer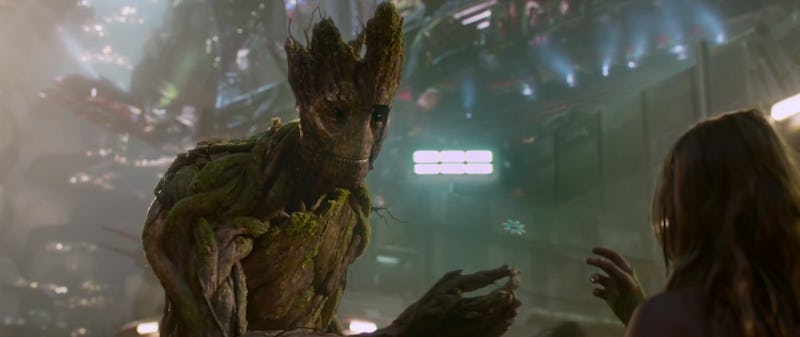 We may not be able to count on seeing Robert Downey Jr. as Tony Stark or Chris Hemsworth as Thor this summer, but that might just be okay. After all, Marvel is introducing a whole new crop of heroes, and they're shaping up to be equally as awesome as the Avengers we're familiar with... if not exactly human. Marvel UK has just released the new international trailer for Guardians of the Galaxy and it's giving us a closer look at the alien stars of the new series.
And you'll likely need it. Unlike the universally familiar superheroes featured in Marvel's The Avengers, you may not recognize the heroes in this space adventure. And that, as The Hollywood Reporter notes, makes Guardians of the Galaxy a risky move on Marvel's part — though most movie-goers have been introduced to the likes of Thor and the Hulk during their childhood, few are knowledgable about the likes of Guardian's Robert Quill and Rocket Raccoon.
Luckily, the trailer makes these less-than-familiar characters look awesome, thanks to a slew of awesome familiar actors like Zoe Saldana (who went green for her role as Gamora) and Bradley Cooper (who voices the snarky Rocket Raccoon). Plus, there's Groot (Vin Diesel), a gigantic tree-like creature whose CGI puts the Avatar special effects to shame, and the image of Cooper's snappy raccoon wielding a machine gun. It's enough to never want to make you confront one by your garbage cans again.
There is, however, one person who appears on screen completely CGI-free, and that's star Chris Pratt, playing Quill. Pratt's Quill may not have a cool CGI-enhanced form or Thor-like superpowers, but he definitely has hit the gym. That, combined with the actor's patented goofiness is the reason while I'll be paying the ticket price for Guardians of the Galaxy. (Andy Dwyer saving the universe? I am so there.)
Guardians of the Galaxy hits theaters August 1.
Image: Marvel (2)