Birkenstocks Are Selling Like TBT Hot Cakes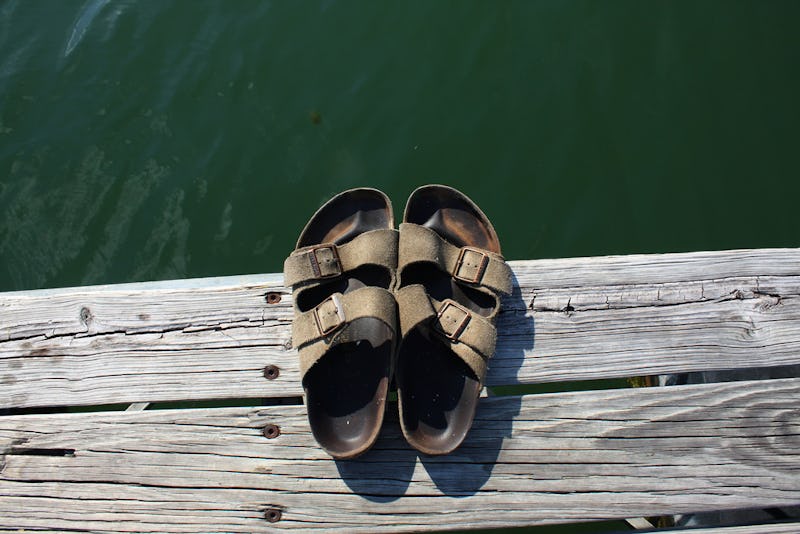 Whether you're a fan of them or not, one thing is for sure: Birkenstocks have officially made a huge comeback. And if the sight of them on all of your favorite fashion bloggers and stylish celebs aren't indication enough, this bit of news will completely confirm what we all knew was happening. According to The Guardian, Birkenstocks are selling out across UK retailers. Amazon.co.uk's shoe store has experienced a 95% increase in sales, while ASOS is reporting similar sales.
Demand is so high for these 1964 orthopedic sandals, particularly their signature two-strap style "Arizona," that the company can barely keep up. "To be honest, demand is so huge this year that we can't meet it. We've got workers pulling all kinds of shifts. They've pulled out all the stops to meet demand," said Robert Lusk, founder of the Natural Shoe Company, which owns the Birkenstock UK flagship store.
While we might be surprised by the ugly shoe's renaissance, the company sort of expected it. Since its start in the 1960s, Birkenstocks have experienced fashion revivals every ten years. In the 1990s, Kate Moss officially made them a staple in the era's popular Grunge aesthetic, wearing a pair of white Arizonas in her famous Corinne Day Face magazine photoshoot. A decade later, Birkenstocks were spotted on the feet of Gwyneth Paltrow and Jude Law.
Although these reports are only for the UK, I think it's safe to assume that Birkenstocks retailers in the United States are experiencing the same increase in sales. A quick survey of their US site shows that many of the Arizona styles are already sold out in most sizes.
Image: Birkenstock USA