New Emojis, Same Old Lack Of Diversity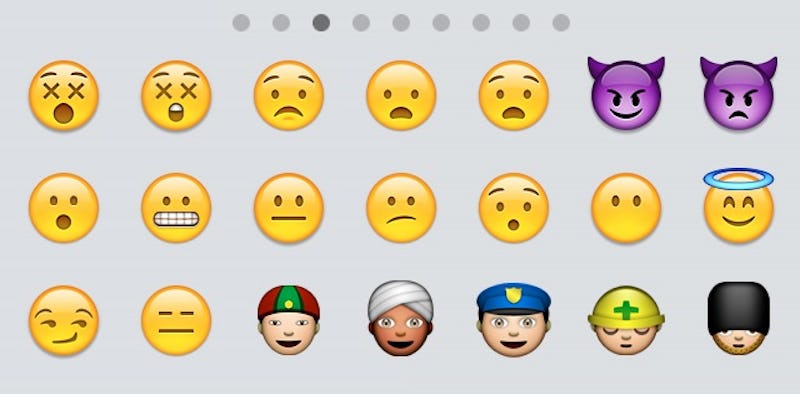 On Monday, software text regulator Unicode Consortium announced it'd added 250 glorious new emojis to the emojipedia. The new emojis are part of a Unicode 7.0 software update from Apple, Google, and Microsoft, but each tech company will decide which new emojis to add to its platform. One major problem: The new emojis aren't any more ethnically diverse than the old set.
Last August, a DoSomething.org petition was launched to urge Tim Cook, Jony Ive, Eddy Cue, and Craig Federighi of Apple to add more diversity to its emojis. The petition originally stated:
If you look at Apple's emoji keyboard, what do you see? Two different camels. A smiling turd. EVERY PHASE OF THE MOON. But of the more than 800 emojis, the only two resembling people of color are a guy who looks vaguely Asian and another in a turban.
And the two somewhat ethnic emoji aren't exactly the most progressive, as they both look like they stepped out of the 18th century. The petitioners called on Apple to add at least four faces of color — a man, a woman, a boy, and a girl — to its lineup, which currently includes zero black people. Given that 56 percent of the African-American community use smartphones, it's about time that they were represented.
Even before the petition started, Miley Cyrus was already on top of the issue, tweeting:
And you know a topic is serious when Miley is tweeting about it.
This March, Apple responded to the plea by promising that they would work on adding more ethnically diverse emoji to its keyboard.
"We agree with you. Our emoji characters are based on the Unicode standard, which is necessary for them to be displayed properly across many platforms," Katie Cotton, vice president of worldwide corporate communications for Apple, told MTV. "There needs to be more diversity in the emoji character set, and we have been working closely with the Unicode Consortium in an effort to update the standard."
So what has Unicode come up with? Its latest announcement of 250 additional emoji characters, surprisingly, still makes no mention of more ethnically diverse people. The firm has, however, added a whole buffet of emoji that are completely irrelevant to 99 percent of people's lives. Take a look at some of the new additions that we would gladly trade for ethnic diversity, along with some old ones that we've never found a use for, and probably never will.
New Emoji We'll Never Use
Lower Right Shadowed White Circle
Upper Right Shadowed White Circle
13 New Pointing Index Fingers
Pocket Calculator
Black Hard Shell Floppy Disk
White Hard Shell Floppy Disk
Soft Shell Floppy Disk
Tape Cartridge
Wired Keyboard
12 Variations of a Blank Piece of Paper (Note, Empty Note, Document, Empty Document, Page, Empty Page, etc.)
Clockwise Right And Left Semicircle Arrows
Cancellation X
Increase Font Size Symbol
Decrease Font Size Symbol
16 Variations of a Leaf Pointing in Different Directions
Man in Business Suit Levitating
That last one baffles me. It's like the good people at Unicode wanted to counterbalance all the boring office supplies with something one of them hallucinated during an acid trip.
Old Emoji We Never Use
The Blowfish
Neither Realistic-Looking Dragon
None of the 13 Moons
The Potted Bamboo Plant
None of the 3 CDs
None of the 4 Speakers
The Weird Lock and Ink Pen Combo
Nothing on This Page:
Or Anything in the Entire Last Section:
What We Could Really Use
Images: Hexus.net, DoSomething.org