Why Is Cambridge Trying To Ban Uber?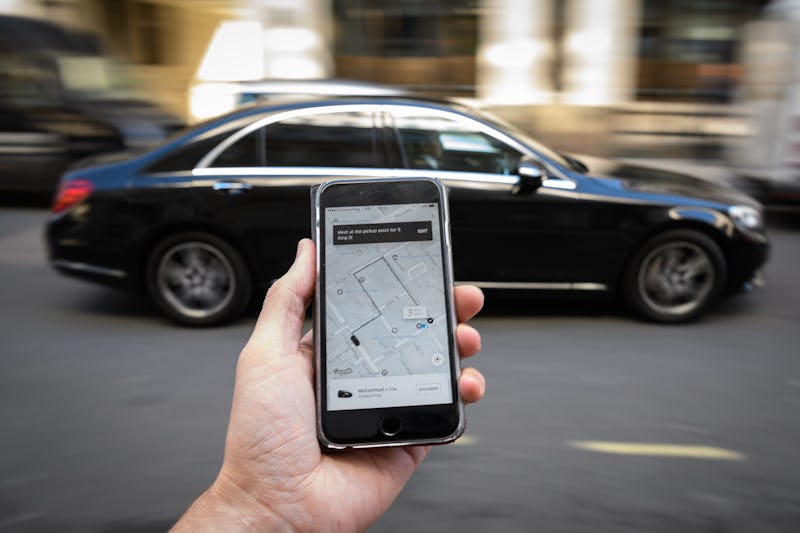 Leon Neal/Getty Images News/Getty Images
Uber has been uber successful worldwide (geddit? geddit?), expanding to 38 countries and soaring to an $18.2 billion market value. But that hasn't stopped Uber critics, from trying to regulate the transportation startup. Now, Uber can add another critic to its list of haters: The City of Cambridge, Massachusetts, wants to ban Uber from operating on its streets. The Cambridge License Commission met on Tuesday to discuss proposed regulations that would penalize Uber — as well as its ride-sharing competitor, Lyft — and force the company to make some major reforms.
Although no vote was taken at Tuesday's hearing, Uber has created a divide among residents of the so-called People's Republic. The proposed regulations, which can be found here, require any taxi service that isn't registered with the city to charge at least $50 per ride. The regulations would also issue fines starting at $100 to ride services that use technology that isn't registered with the city, and prohibit riders from requesting on-demand service from anyone other than a taxi. Uber currently violates all of those measures.
Placing a $50 minimum on an Uber ride would no doubt hurt the company, which prides itself on being low-cost. For some context, an average UberX ride from Harvard Square to Kendall Square (two miles) is just $5 to $7, while a ride from North Cambridge to East Cambridge (about five miles) costs between $9 to $13 dollars in an UberX. Even trips coming across the Charles River from Boston cost less than $10 on average.
In a blog post Monday, the company called the proposed regulations "shocking" and urged Uber fans to attend Tuesday night's hearing.
Why would Cambridge, a city known for its liberal politics and becoming something of a mini-Silicon Valley in recent years, want to curb Uber business? Well, this isn't the first time Cambridge city officials and Uber employees came head-to-head. The city first tried banning Uber in 2012, claiming that the company's fare-regulating technology didn't meet state standards. The city handed Uber a cease-and-desist, forcing the company to shut down its operations. However, the ban was overturned by Gov. Deval Patrick, and an ensuing lawsuit was rejected.
In a statement released at the time, Gov. Patrick's office said Uber can continue operating because its technology was currently under review by the National Institute of Standards and Technology. The governor's office added an apology:
Massachusetts is a leader in innovation and we applaud Uber's innovative spirit and welcome their competition into the commercial passenger transportation market.
However, Uber's vehicles and fares still remain unregulated — a fact that has been angering taxi drivers in the Greater Boston area.
In May, cab drivers from Cambridge, Boston and Somerville protested the ride-sharing company, gathering outside Uber Boston headquarters in downtown Boston. In a statement released to the press, they said the Boston Police Department Hackney Unit has failed to protect taxi drivers and the public from Uber's unlicensed and unregulated drivers-for-hire.
"Every day these unlicensed Uber-for hire vehicles and drivers operate on the streets of Boston, it puts at risk residents, tourists and business passengers, who assume that these drivers and vehicles are safe and the rates are fair," the Boston Taxi Drivers Association said in the statement. The taxi drivers added that Uber has cut the city's taxi business by 30 percent.
Boston-area taxi drivers have another reason to be worried about their recent money losses: The MTBA introduced late-night service this year, allowing for 15 bus routes and most of the area's trains to stay open until 3 a.m. on the weekends. Many taxi drivers expressed concern, saying the extended hours will take away from their business.
Cambridge city officials insist that their intent isn't to ban Uber; they just want to make it safer for Cambridge residents. "The commission is going to get input from all concerned parties and they will at some point adopt some regulations ... clearly not aimed at trying to put Uber out of business," Cambridge Mayor Richard Rossi told the Boston Business Journal.
As for Cambridge residents, it's no surprise that many have embraced Uber since it came to the area: Boston has the highest taxi fares of any big city in North America, according to Radio Boston. For people who like to go back and forth between Beantown and the People's Republic of Cambridge, Uber it is.