Hello Kitty Fan? Get Ready to Freak. Out.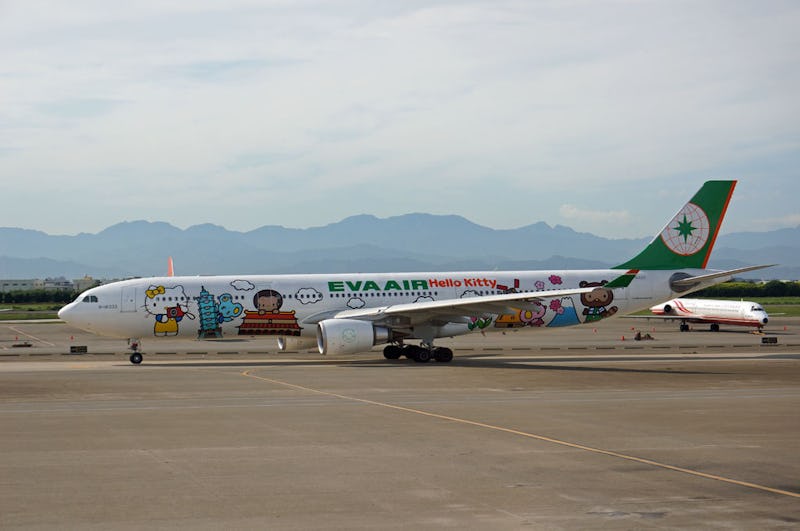 If you ever went through a Hello Kitty phase, you're well aware of just how much stuff exists with that famous cat's face on it — because, at one time, you wanted ALL of it. Well now, you can add one more thing to that old list of must-have-Hello-Kitty-collectable-things-I-can't-live-without: a flight on one of EVA Air's Hello Kitty Jets. Oh yes. They exist, and they're coming to America, and you can fly on one right now. (And yes, they're everything you and your inner tween would ever want them to be.)
Gothamist recently reported that Taiwanese airline EVA Air brought their fleet of Hello Kitty themed jets/flights to the states earlier this year. Though they're only flying from Los Angeles to Taipei a few times a week, it's still a little exciting for anyone who ever fell in love with the Sanrio character as a kid.
Though they're just now making their way to our side of the globe, they've actually been around for a while in Asia. According to NPR, EVA Air joined forces with Sanrio back in 2011 to give several of their A330s a Hello Kitty makeover. Since then the airline has been providing themed flights to destinations including Japan, Hong Kong, South Asia, China and Guam. Despite the limited flights available in the states right now, EVA Air plans to take these jets to Europe soon, because everyone deserves a chance to fly in Hello Kitty style.
Behold:
....so just how Hello Kitty are these Hello Kitty jets?
Let's just say, your inner child would have a meltdown. Gothamist explains that the experience starts from the minute you arrive at the airport, where you enter through a special Hello Kitty gate. You then get themed tickets and themed luggage labels. On the flight, you'll encounter themed pillows, silverware, cups, napkins, toothpicks, hand soap, face mist, air sickness bags, and, (takes a deep breath), pats of butter. And that's only the tip of the light-pink iceberg. Take a look:
The best part? Each of the planes has a completely different theme. EVA Air really went all out. It is, after all, Hello Kitty — you kind of have to.
And to answer your question, no, these aren't the only themed flights out there. There are jets appropriately decked out for Pokemon fans, Simpsons fans, and, le sigh, Harry Potter fans. Though they all sound amazing, I think Hello Kitty-themed flights take the cake when it comes to nerding out on a plane. Perhaps it's the branding, or maybe because it's the ultimate inner child indulgence, but a small part of me can't resist those cat-shaped pats of butter.
For more photos, go to Gothamist.com!
Images: EVA Air