Who Stars In Lifetime's 'Saved By the Bell' Movie?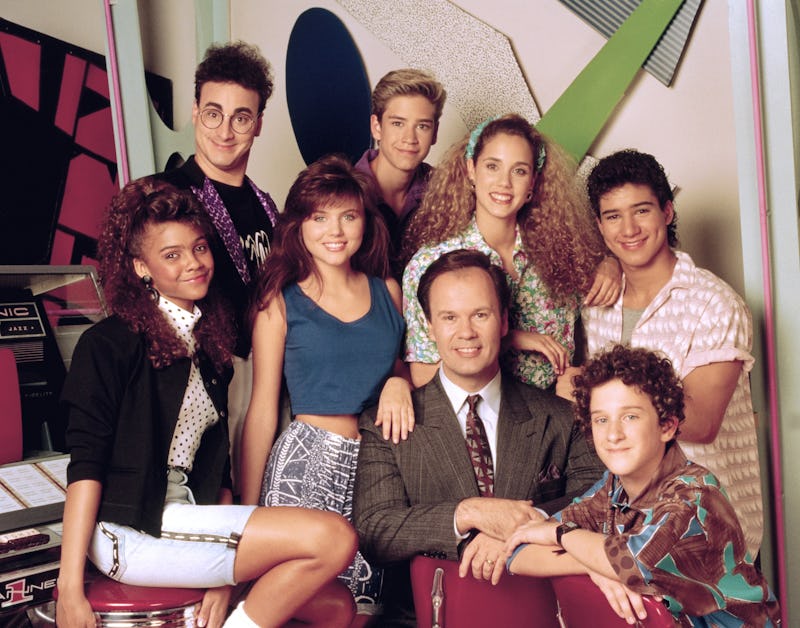 Back in 2009, Saved By the Bell staple cast member Dustin Diamond wrote a tell-all about the show that launched him into fame. He left little to the imagination as he revealed the details of his fellow cast member's personal lives, including everything you'd want to know about who was hooking up and experimenting with drugs. Now, we'll get to see this salacious behind-the-scenes moments unfold on screen as Lifetime is bringing The Unauthorized Saved by the Bell Story as a T.V. movie that will likely disrupt your picture-perfect views of the cast. Drama? Conflict? Sex? Drugs? Yep, sounds like a Lifetime movie alright, one that we can't wait to see.
The movie will unfold with hired actors playing the famed actors, although we sort of think the original actors should have been offered the chance to play themselves (we all know Mario Lopez hasn't aged a day, and it would bring us so much joy to see Tiffani Amber with those bangs again). Nevertheless, the parts have been cast and Buzzfeed revealed who will playing who in the nostalgic flick. Here's the rundown of who's who in Bayside High:
Mark-Paul Gosselaar
played by Dylan Everett
Dustin Diamond
played by Sam Kindseth
Mario Lopez
played by Julian Works
Tiffani-Amber Thiessen
Played by Alyssa Lynch
Elizabeth Berkley
Played by Tiera Skovbye
Lark Voorhies
Played by Taylor Russell McKenzie
The Unauthorized Saved by the Bell Story airs September 1 at 9 p.m. on Lifetime, and likely every other evening until the next Flowers in the Attic premieres.