Good (and Bad) News for 'Better Call Saul'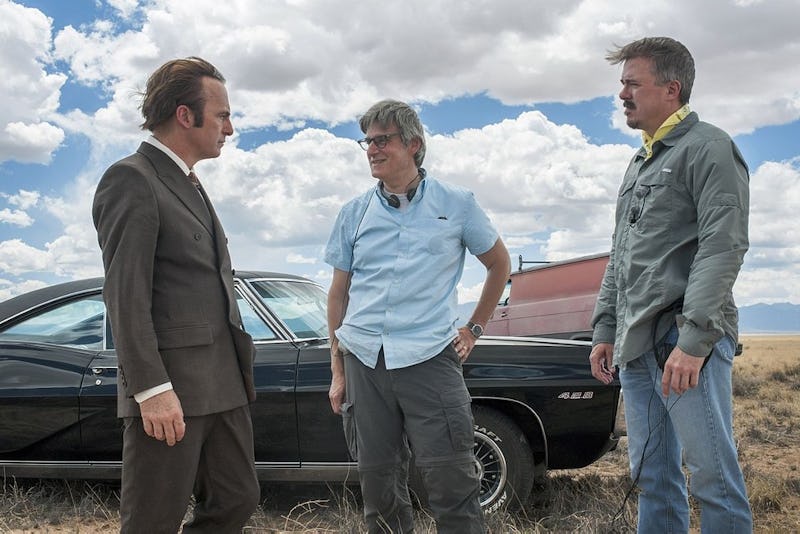 Two conjoining pieces of news have cropped up for Breaking Bad spinoff Better Call Saul today, and they should tell us a little bit about what AMC's thinking about the series. For one, the network's picked up the show for a second season. For another, they've moved the premiere of the first season from November 2014 to an undisclosed date in early 2015. So what does this mean?
Well, for one thing, the pickup for a second season seems like a good sign that the powers that be over at AMC have been liking what they've seen so far (scripts, etc.) of the first season. They've also upped the episode order, from the ten episodes the first season got to thirteen for the second. The second season will air in 2016.
With the push-back also comes the announcement that Vince Gilligan, he of so many Breaking Bad shirts and even more Breaking Bad brilliance, will direct the series premiere of Better Call Saul. Gilligan's also officially signed on as co-showrunner alongside Peter Gould, who wrote the episode of Breaking Bad that first introduced Saul and his shifty ways to the world. Previously it was confirmed that Breaking Bad star Aaron Paul would not be reprising his role as Jess Pinkman in the prequel, but AMC seems confident in the series even without the heft of the origin show's leads. As Gilligan noted during a recent showrunners panel, this is a show that could end up either Frasier or After M.A.S.H. in terms of spinoff success— but luckily for all of us this most recent news seems to lean towards the former.
Image: AMC