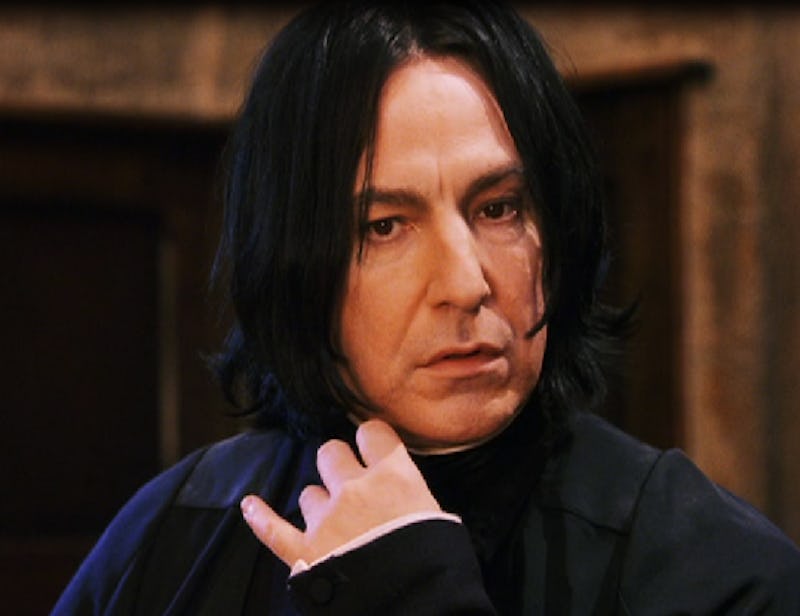 Accio, likes! Professor Severus Snape just got an Instagram account and it is everything we hoped it would be and more. Apparently the Hogwarts administration is none the wiser and hasn't set up any firewall restrictions yet, because his social media game is cutting edge and fierce and really, only getting better. Not that we don't already get enough of his biting sarcasm and stoicism from his prolific Twitter account, but his Instagram just adds something more to his infamous persona, dare we say it makes him more... approachable? There's just something about a selfie that unifies us as a species, no matter if you're a Wizard, Mudblood, Half-blood...or even a Muggle. Yuck.
While Snape may shroud himself in dark cloaks and black shrouds around Hogwarts, he's a whole lot more free on the good ol' gram. He gives us what we've always asked for-- an unprecedented and uhm, intimate, glimpse into his mysteriously intriguing life. Though he obviously bemoans that his followers behave in the same way as his students ought to, stating, "There will be no foolish wand-waving or silly incantations in this Instagram feed." We feel you, Snape. Way too much wand-waving and silly incantations on our feeds as well.
Here's some insight Snape's life that you'd only really know by following his account:
HE'S GOT A SERIOUSLY KILLER BOD
INTERESTS: BUBBLE BATHS
HE'S AN APPLE GUY
HE KNOWS HIS WAY AROUND A PIC COLLAGE
...AND PHOTOSHOP
HE'S TOTES INTO THROWBACK THURSDAY
HE STILL HAS NO PATIENCE FOR RON
Image: Warner Bros.