The Straw That Can Detect Date Rape Drugs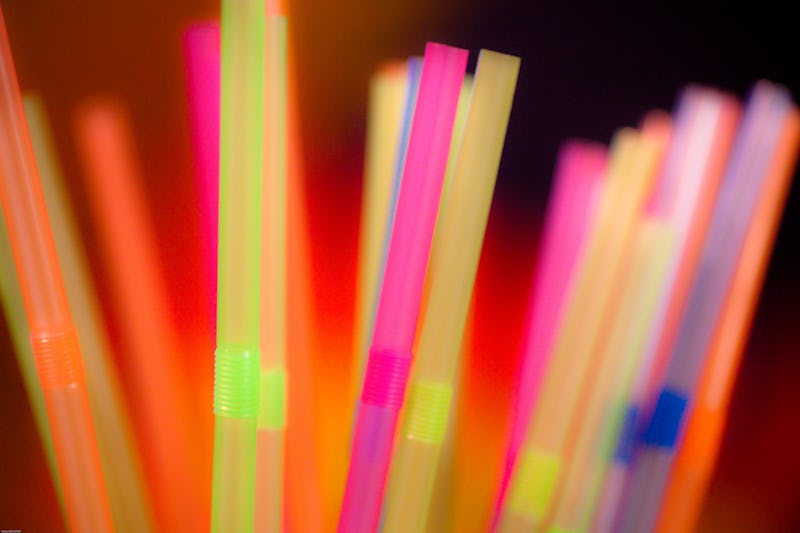 Sadly, we live in a word where enjoying a drink can make you vulnerable to drugs that facilitate robbery and sexual assault. Know-nothing jerks love to advise: "Don't go to dangerous parties" or "Don't hang out with bad people," as if that is anyone's goal for an evening. The fact is people and situations are safe until they aren't. Drug facilitated sexual assault can happen whether you're at a rager, on a date, or, in Mike Abramson's case, at a friend's birthday party.
The Boston attorney is the inventor of DrinkSavvy, a line of plastic cups, glasses, and straws that can sense date rape drugs and ecstasy. If chemicals like rohypnol or GHB are slipped into a DrinkSavvy product, colored stripes will appear on cups and glasses, while straws turn red. Beverage companies can make their standard bottles and cans DrinkSavvy, too. Though it's doubtful this will happen in our cost-cutting market, I promise to grant exclusive, lifetime patronage to the first brand to do so (yes, even if it's BudLight Lime).
Once just a clever, philanthropic idea, Abramson took DrinkSavvy to crowd funding site IndieGoGo, where more than 2,500 people donated money to perfect a prototype. Now the drinkware is scheduled to be available by early- to mid-2014, but contributors can get their hands on DrinkSavvy products as soon as this coming September.
Though the cup doesn't seem so practical outside of your own home (Harry Potter's Madeye Moody comes to mind), the straw seems like a viable option, if difficult to clean. Small and portable, I imagine one could discretely drop a DrinkSavvy straw into a glass — and look like a real fancy-pants if that glass happens to be holding beer or wine. You mean you didn't know a straw activates the hops/tannins?
The cost of a DrinkSavvy item, and whether you can buy in bulk, has yet to be revealed, but seems like a key querie since I can see myself forgetting my straw in my last drink or allowing a cute bartender to clear my glass as I gaze at him and wonder: Do bartenders actually sleep with patrons or is that just a stereotype…? As the DrinkSavvy site mentions, disposable paper strips already exist to detect date rape drugs, but they require you to constantly retest your drink. Abramson's product seems to be the best currently available for constant coverage.
Of course it's always important to reiterate that the best way to prevent rape is to educate people not to rape. But products like DrinkSavvy that provide a little extra protection don't put the onus of assault on victims —ignorant people do.
Many men walk around free of the constant fear women feel as the common targets of unwanted sexual advances, from street harassment to sexual assault. Abramson's story simultaneously highlights the difficulty of getting men invested in something they consider a "woman's issue" and the great difference they can make when it dawns on them that "chick issues" are in fact human issues. It's horrific that Abramson had to experience being drugged, though luckily, he says he awoke relatively unscathed. What's admirable is how he used his newfound empathy to create a tool that will help potential victims of both genders.
I do have to say, however, that I take issue with the DrinkSavvy site graphics. Using a photo of a seemingly "passed out" fashion model (complete with designer clutch) to illustrate drug-facilitated date rape is creepy for reasons I shouldn't have to explain.
Image by Chris Farrugia via Flickr