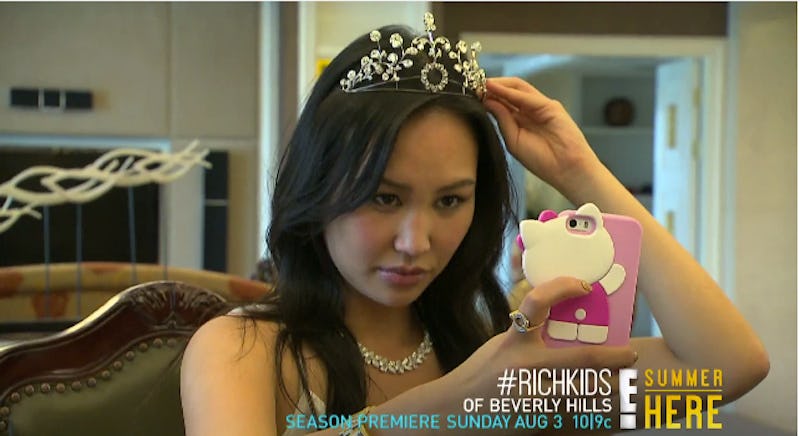 They're back and there are tiaras involved. E!'s released the first promo for #RichKids of Beverly Hills Season 2 and the perpetually "funemployed" are all still trying to grow up. Well, in between trips to the Chanel counter, China, and finding the perfect selfie lighting. Morgan Stewart, Dorothy Wang, and the rest of the #RichKids swipe, sign, and snap their way through the promo fittingly soundtracked by Iggy Azalea's "Fancy." But the big question is — will there be a #RichKids baby?
The Season 2 promo ominously writes over the clinking of champagne glasses, "They may live in a fantasy world, but this August, life is getting real." How real is real when you're buying tiaras for your friends and taking selfies on the Great Wall? Apparently really real — Brandon and Morgan have been dating for two years and he's ready to take their relationship to the next level. (She should've been careful what she wished for when she was talking about filling his new car with baby strollers.) And Dorothy's got some typical, real-life #princessproblems — aka she's single and crying about it. Again.
So get ready for more private jets and Roxy Sowlaty cooing, "Lychee Lou," at her at little Maltese because the #RichKids are back on E! Aug. 3. Watch the promo here:
So fancy.
Image: E!