All of Shosh's Best Hairstyles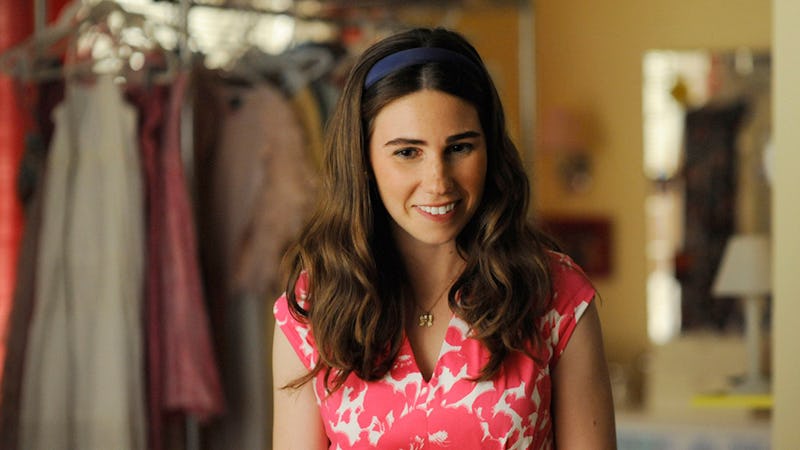 Shoshanna is easily the most quirky (and possibly most relatable) character on TV today. From the moment she hit the screen I knew I would love her. It's not just her amusing, semi-naive life observations, or Audrey Hepurn-inspired outfits that have me waiting for her scene after scene. It's her often outrageous hairstyles that get me completely swooning over this insatiable character Girls fans have come to adore the world over.
Secondary television characters can easily blend into the background, but clearly someone on the set of this HBO hit knows how to make each of the personalities shine on screen in their own unique way. Shosh's incredible hair styles are often so over the top that it can be hard to imagine that anyone in real life would attempt these stellar coif's. Just when you think she is next in line to play a spitting image of Jackie Kennedy, girl walks into the room with a doughnut bun on the side of her head. Flawless.
Often unpredictable, and always a treat to watch, here are just a few of this Girls character's best hairstyles from the series so far.
1. THE PARTY PONY
In the unforgettable episode where Shoshanna tries crack for the first time (an honest mistake), we saw her in this adorable pouf with pony tail. By the end of the episode Shosh had taken off her pants and ran around the city away from Ray, but that perfect pony was still in tact!.
2. HER BRAIDS THE DAY SHE WORE WHITE TO A WEDDING
Completely distraught over the fact that she wore white to Jessa's surprise wedding, Shoshanna looked sleek in two tight French braids. Her frustration grew over the course of the evening, but her plaits never looked better.
3. LETTING IT ALL HANG DOWN
The times she let her hair down naturally on the show are some of her sweetest hair moments to date.
4. THE MINI SIDE BUN
Gearing up for the hair looks ahead, Shosh showed us early on that she had no fear when it came to styling her tresses. This mini bun was a small step in an even bigger direction later on in the series.
5. THE UNFORGETTABLE DOUGHNUT BUN
Arguably the most talked about hair style of the entire show so far, this giant doughnut inspired side bun is the character's most popular look hands down. Just try to DIY that one! (Hint: you may need a sock bun.)
6. HER Avant Garde PIGTAILS
Why just have regular pigtails when you can step it up a notch and create this perfectly grown up, girly version of a childhood favorite?
7. A SIDE BRAID MADE PERFECT
A simple side braid is too boring for this gal. After incorporating a hair clip and raising the height, this look is good to go.
8. THE MYSTERIOUS UPDO
When spying on Ray, Shosh knew she had to down play her wacky hair style, so she opted for this Hepburn-inspired look, complete with over-sized sunnies. The perfect incognito hair trend.
Images: Giphy