Did She Have A Boy or a Girl?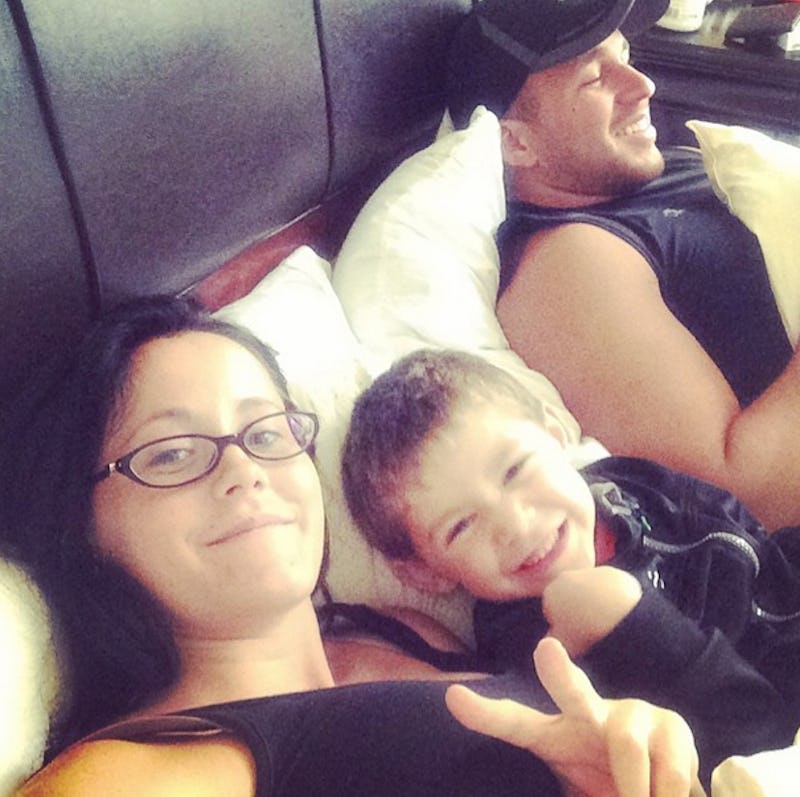 This Teen Mom 2 star's family just got a little bit bigger. According to Us Weekly, Jenelle Evans gave birth to a baby boy on Monday, and the second-time mom couldn't be happier. Jenelle's boyfriend, Nathan Griffith, announced the joyous occasion over Twitter with an adorable picture of the baby's feet. The parents picked out the name Kaiser for their son months ago, and are now referring to their new baby by the cute nickname, Kai. The birth of Kai will mark a new chapter for Jenelle — let's hope she uses her new chapter wisely.
It's hard to believe that Jenelle's second son comes almost five years after the birth of her first son, Jace. Jenelle's story on 16 & Pregnant and, later, Teen Mom 2, shot her up to reality fame, despite her struggles acclimating to motherhood and her problems with addiction. Jenelle has had multiple legal issues in the past, including a 2010 arrest for breaking and entering and drug possession which landed her on probation. In 2013, she was arrested for heroin possession alongside her soon-to-be ex-husband, Courtland Rogers. In between all of these legal problems, Jenelle left her son with her mother, Barbara, whom had custody over Jace. Now, Jenelle seems ready to finally take on the responsibilities of motherhood — and that's great news for Jace.
According to HollywoodLife, Jenelle is in talks with her mother about regaining custody of Jace, and it's a clear sign that she's stepping up as a parent. According to Jenelle, Barbara told her that if she stays sober for one year, she will consider allowing Jenelle custody of her older son. More significant than Jenelle possibly getting custody of her son is Jenelle wanting custody of Jace — it wasn't long ago that Jenelle shunned the responsibilities of parenting in favor of partying and sketchy boyfriends.
It's not the only sign that Jenelle is turning things around — she's also currently enrolled in college, where she is studying to become a medical assistant. Jenelle took to Twitter to brag about her straight A's on this semester's finals, which is a pretty amazing feat considering she was in her last trimester of pregnancy when she took them. Getting a degree and a good job isn't only good for Jenelle — it's also great for her kids, who will look up to the former Teen Mom 2 star.
Jenelle is turning over a new leaf, and that's awesome news for Jace and new baby Kai. Let's hope she keeps up this new, happier, healthier life — it's clearly working for her.
Check out dad Nathan's pic of baby Kai below:
Images: j_evans8209/Instagram