'OUAT' Finally Cast 'Frozen's' Anna and Kristoff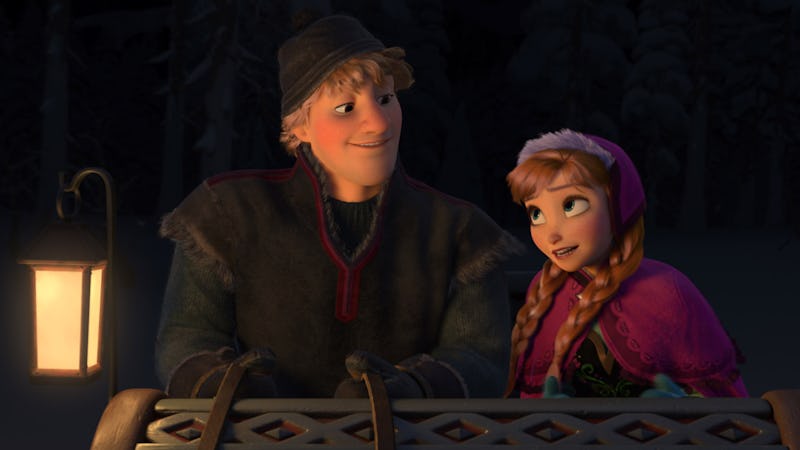 After the epic and shocking reveal of Queen Elsa of Arendelle from Frozen in the season three finale of Once Upon a Time, it was only a matter of time before the series announced the inclusion of the rest of the film's protagonists as well: According to TVLine, Once Upon a Time has cast Elizabeth Lail as Anna and Scott Michael Foster as Kristoff. The role of Elsa has yet to be cast — in last season's finale, we're not shown her face, meaning no actress had been secured for the role just yet.
So, who are Lail and Foster? While you may recognize Foster from his role as Cappie on the really underrated ABC Family series Greek, or possibly from his brief role as Tyler in Californication, Lail is a newcomer — her IMDb only lists two projects, which were both short films, and a quick Google search brings her performance credits from when she was a student at the University of North Carolina School of the Arts (UNCSA). Most importantly, both Foster and Lail do look a lot like Disney's interpretation of the characters, so OUAT seems to have made some good choices.
As for how Anna and Kristoff will be involved in the OUAT universe, there isn't much info about that available yet — there have been rumors that Elsa may be evil in the series, but showrunners have also said that they're going to "honor" Disney's original film. Whatever that means.
Check out pics of Lail and Foster below, as well as a clip of Elsa's first appearance during last season's finale of OUAT.
Image: Disney, Facebook