Your Official USA v. Belgium Emoji Recap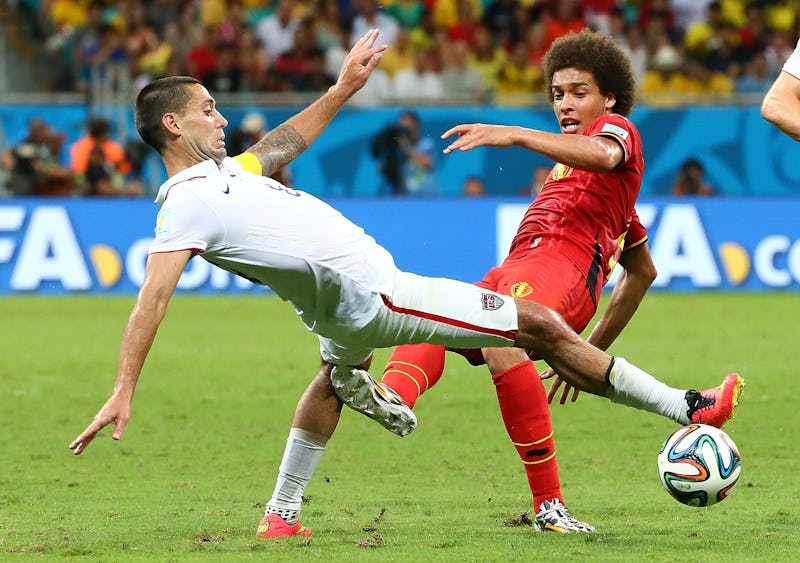 Kevin C. Cox/Getty Images Sport/Getty Images
Everyone knows there are really only two modes of official communication now: Texting, and emojis. It's 2014! Who has time to speak, or, God forbid, type stuff out when we've all got modernized hieroglyphics at our fingertips to convey how we feel about things in life? I mean, I know I don't. This applies to everything, from dating to making plans for a night out, to having very serious, deep, meaningful conversations, to reacting to major events. So, considering that today's USA/Belgium World Cup game will pretty much make or break the USA's spot in the fixtures, we could think of no better way to break down the game, play-by-play, as it happens...with emojis.
I mean, when you think about it, there's no more fitting a way. The soccer ball emoji was created for a reason, and I refuse to believe it's for anything else but this purpose.
The game is slated to be a close one: Belgium has been doing particularly well so far, while the US has its first chance at reaching the quarterfinals in a long while. If the US manages to win this game, it would be downright historic. There wouldn't be enough party emojis in the world to describe how exciting it would be!
Now...let's do this.
Before the game
"USA, USA, USA!"
When the game started
"Let's do this!"
When nothing happened for like 30 minutes
When Belgium kept almost making the first goal
"I need a drink."
When the game was an hour in and no one had scored yet
"We could make a drinking game out of every time no one scores."
When Tim Howard made an amazing save 75 minutes in...
...but then Belgium nearly scored
When Omar Gonzalez painfully landed on his ankle
When there were three minutes left and no one had scored yet
When Tim Howard made another amazing save at 90 minutes in, just before Belgium could have scored a last second goal
When overtime was added — and still, no goal...
And then Belgium scored, two minutes into overtime
But there's still time left, we can do this...
When Belgium scored AGAIN
"Hahaha, everything is terrible."
WHEN THE USA ACTUALLY SCORED THANK YOU JULIAN GREEN
WHEN THE USA ALMOST SCORED AGAIN TWO SECONDS LATER...THEN DIDN'T
We can still do this, we're so close...
Then the game ended, Belgium 2-1 USA
"JUST LEAVE ME HERE WITH ALL THE ALCOHOL."
Good effort, Team USA. We appreciate you. PS I'm sldkrunk.
Main Image via RVANews.com