You Can Wear Spiders and Bananas On Your Ears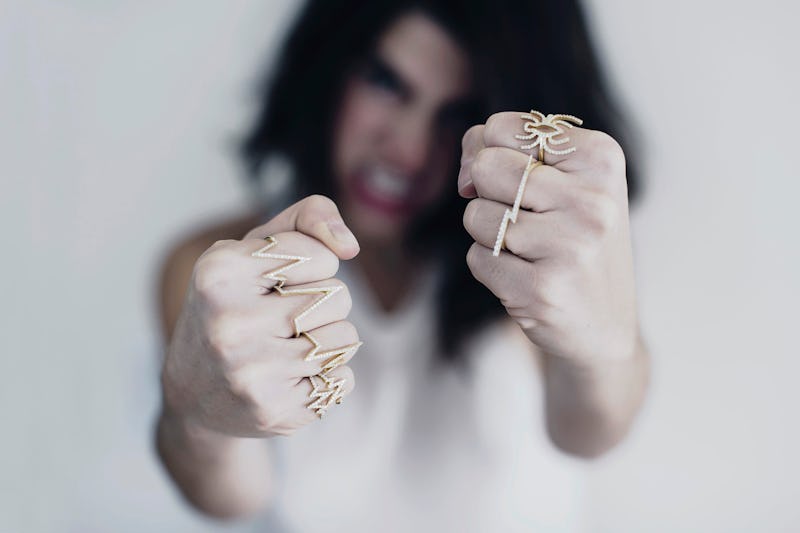 Leandra Medine, aka the Man Repeller, is a name most know — but there's another Medine in the fashion biz. His name is Haim, and he's cut from the same quirky cloth as his sister.
With an eye for design, Haim Medine recently launched fine jewelry line Khai Khai Jewelry to much fanfare, and with good reason: He fashions diamonds into delicate pendants, rings, and earrings shaped in marijuana leaves, rain drops, spiders, and bananas. Learning his trade for jewelry making in the family (mom is also a jeweler), Medine went out on his own "to set out and establish his own brainchild whose niche would be to offer something fine in appearance yet adventurous in nature; thus the birth of Khai Khai Jewelry," per his website.
The price point is certainly aspirational for many, with the simplest pear knuckle ring costing $455 and a particularly stunning mother of pearl and diamond "shark tooth" necklace hitting a high point at $5,375. But that hasn't stopped consumers — the aforementioned necklace is currently sold out on his website.
Medine has some of fashion's hottest young tastemakers on his team; sis Leandra's mug is splashed all over the website, and she's uninhibited about promoting him on Twitter and Instagram. Also on board? Claire Distenfeld, the 20-something owner of the sparkling boutique Fivestory, who was the first buyer to stock Medine's designs. His goods are currently sold at Fivestory, London Jewelers in Easthampton, and online.
The highlight of the collection is surely the "Hear No Evil," "Speak No Evil," "See No Evil" monkey rings and necklaces in 18-karat gold and outlined in 0.4 carats of diamonds. Making some sort of feel-good statement with your bling bling? Oui oui. A bit cheesier, but very apropos for our millennial generation, is a diamond hashtag and ampersand ring. And what better way to frame your face than with parentheses earrings? Medine may take the plugged-in generation thing a bit too literally, but the tongue-in-cheek approach to diamonds and other precious things fits perfectly into the category of irreverently and unapologetically cool.