The Absolute Ugliest Bridesmaid Dresses on Screen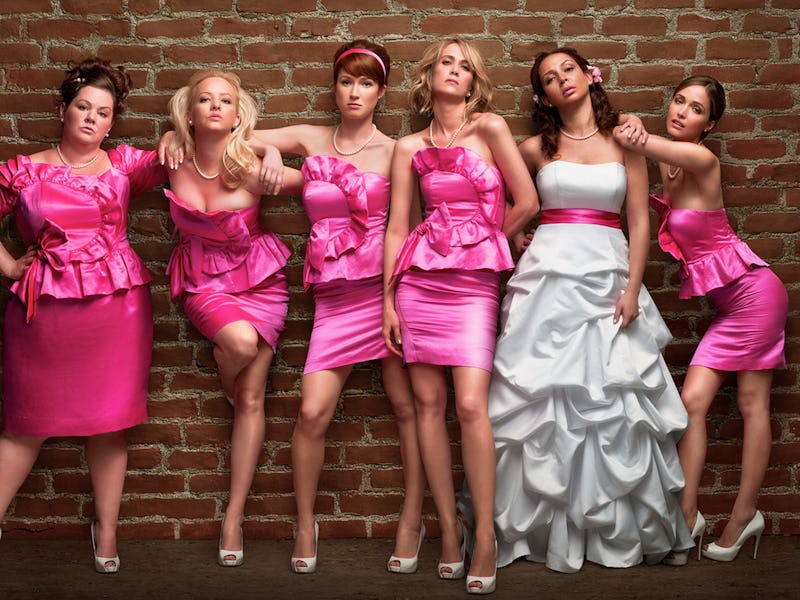 Brides get all the attention, even fictional ones. Like every wedding guest, television and movie viewers are all waiting to see the wonder or monstrosity that is the bridal gown while the bridesmaids' attire goes unnoticed — unless they look horrendous. If indeed the bridesmaids' gowns are the pinnacle of tacky taffeta, they get a little time to shine. And by shine I mean receive audible gasps and a few what was she thinkings.
Being that a costume designer, not a blushing bride, is responsible for everyone's wedding day ensemble, we can expect the choice to be one consistent with the characters and story line. But with that being said, some looks wander a little too far into OMG territory. I'm lookin' at you, kooky floral poof dresses from My Best Friend's Wedding.
Most of us wouldn't dream of publicly mocking the choices of a close friend or loved one, but when it's a made up character, we all feel pretty within our right to point and laugh. So, let us pay homage to these heights of horrible.
Here are the top 11 ugly bridesmaids dresses to hit the big and small screen plus the 27 from 27 Dresses as a bonus. Hollywood you owe us a handwritten apology for these gems.
1. Bridesmaids
A ruffle wonder.
2. My Best Friends Wedding
Julia Roberts' dress wasn't half bad, but these? Yuck.
3. Friends
We all remember Mindy and Barry's wedding.
4. My Big Fat Greek Wedding
Let's not forget there were earrings to match.
5. Confessions of a Shopaholic
A matching set of terrible.
6. Gossip Girl
All those ruffles make them look hippy. Blake Lively, on the other hand, looks flawless.
7. The Wedding Singer
If you look to the left you can see that butter yellow number.
8. Steel Magnolias
See past Dylan McDermott's baby blues and witness the bridesmaid dress trinity — ruffles, poof and satin.
9. Runaway Bride
So, so many bows.
10. A Different World
The bride stole all the poof sleeve, but the Pepto Bismol pink is for the maids.
11. Sex and the City
Now these may be fashionable for Carrie and the girls, but be honest, if your cousin picked them for her nuptials you would squirm just a bit.
Bonus: 27 Dresses
The big daddy — all 27 for your viewing enjoyment.
Image: Universal Pictures, n-ibble/Tumblr, TriStar Pictures, NBC, IFC Films, Walt Disney Studios, The CW, New Line Cinema, TriStar, Paramount, New Line Cinema