Doritos Loaded: We Tried Them So You Don't Have To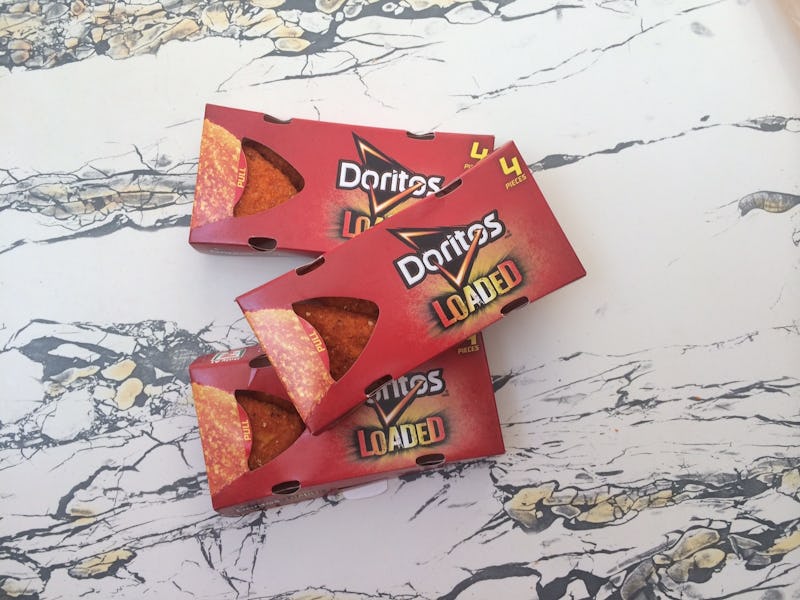 In snack food monstrosity news, Doritos Loaded snacks were released Wednesday, exclusively at your local 7-Eleven. Dubbed "inside-out nachos," because some arrogant fool thought it was possible to improve on regular nachos, the neon orange nuggets are basically triangles of molten nacho cheese encrusted in some sort of Dorito-meal. Never ones to pass up a product that involves hot queso and an absurd saturated fat per gram ratio, we sent an intrepid Bustler into the streets of Manhattan to secure as many orders of Doritos Loaded as we could buy for $6 (hey, no one had cash on them).
At $1.99 for four nuggets that probably fill your daily recommended calorie count all on their own, this is certainly an efficient use of funds (to say nothing of the likely nonexistent nutritional value). But how do they taste? Is the cheese as melty and delicious-looking in real life as it is in the commercials? Does Dorito-meal have the same crunchy, teeth-coating qualities as regular Doritos? Is there any good reason to add these things to your current go-to 7-Eleven order of a Cherry Coke slurpee and a bag of Flamin' Hot Cheetos? In short, no...no...and no.
The snacks hang out in the warming plate area of the convenience store and, as any avid fan of Go-Go Taquitos and Buffalo Chicken Rollers can tell you, this method doesn't exactly replicate a "hot out of the oven" flavor and texture. The things were lukewarm, mushy, and felt like an old chicken nugget to the touch.
As for the taste? I'll let these quotes from staffers sum it up for you.
"I used to work at a pizza place in high school and we made fried mac 'n cheese. it tastes kinda like that."
"I'm really disappointed because you usually can't go wrong with a cheese product but they've somehow managed to do that."
"It's like a confused chicken nugget."
"My fingers smell gross."
Some people were slightly more positive:
"It's a great food to eat right before you go on a Tinder date. Gonna get you laid."
"It's like the saltiest, gooiest polenta I've ever had. But I'm gonna eat it anyway."
"I'm really hungry so I feel like my judgement may be clouded."
"I personally think it's very American for them to come out with this this week."
Even though a couple people moved on to their second nugget (guilty! What is wrong with me?), we all agreed that these things could use a little help because "it's not oozy enough. There's no oozing happening." That's where the toaster oven came in handy.
The toasted nuggets were certainly an improvement — the cheese took on a melty consistency rather than a Cheez Whiz consistency, and it added some crunch to the salty shell. But, alas, "it's much better, but still not good" was the final verdict.
In closing? I've been called a human garbage disposal more than once, and even I would recommend you spend your $2.00 on getting a bigger Slurpee.
Photos: Julie Alvin