Try A Mermaid-Inspired Makeup Look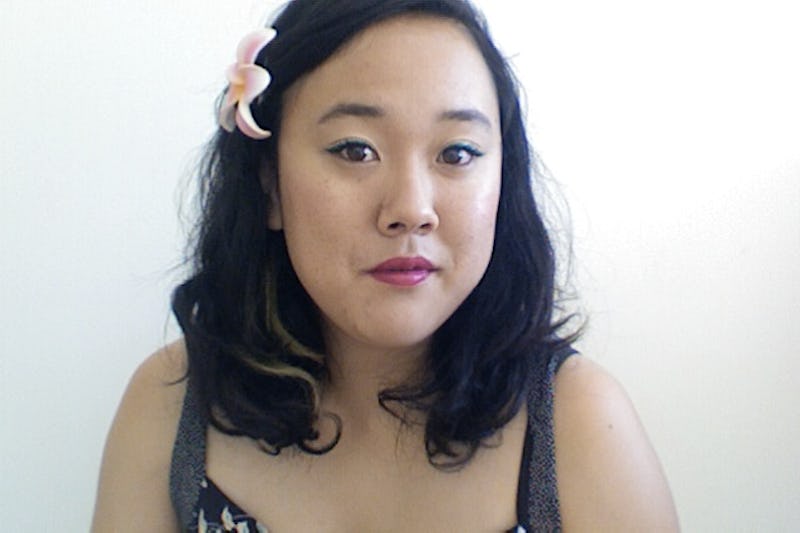 Summer came officially with the solstice on June 21st, but now as we enter July, we're really starting to get into the swing of things. It's time for ice cream cones, block parties and barbecues, fireworks, and long walks on the beach (or better yet, long sojourns into the ocean!).
Yes, summer has a lot going for it, and what with the unbelievably perfect beach weather here in LA (sorry to brag), I've got mermaids on the mind.
When you think about it, they're the perfect summer inspiration: they're often depicted with blue or green (or, you know, candy apple red) hair, their beauty game is off the charts, and they sure know how to work a shell bikini. Go forth and create your Ariel inspo boards on Pinterest.
Well, because my hair is too stubbornly black to dye aquamarine, and you wouldn't catch me dead in a shell bikini, that only leaves the makeup arena. My take on mermaid-inspired makeup involves peachy blusher, hibiscus-colored lipstick, and a whole lot of teal liquid eyeliner — read on for a quick how to!
1. Start off with your regular base
My regular base face includes IOPE Air Cushion Sunblock XP (a BB cream), Benefit Fakeup (a concealer), Skinfood White Grape Fresh Light Pact (a powder), and Laneige Natural Brow Liner, but use whatever works best for you!
2. Brighten with blush and highlighter
I used a peachy pink blusher on the apples of my cheeks, as well as a golden-based highlighter on the tops of my cheekbones to make my face glow-y like a mermaid. Both products are rather adorably made by popular Korean cosmetics brand, The Face Shop.
3. Lightly line with black eyeliner
I tightlined my upper lash line, and created a slight wing, using that ubiquitous cult favorite, Bobbi Brown Long-wear Gel Liner. Make sure the line is on the more delicate side, so the green can really take center stage!
4. Add green liquid liner
Draw a green/teal liquid liner in a rather thick/slightly dramatic wing shape. I'm using Stila Sparkle Waterproof Liquid Eyeliner in Bora Bora, which is much brighter and sparklier in person.
5. Add the lippy of your choice
I'm using Lancome L'Absolu Rouge in Pink Hibiscus, which is part of the Jason Wu collaboration, but any summer bright will work. Finish the look with a cheesy plumeria clip bought at the Lihue Airport.