These SYTYCD Tappers Could Go All The Way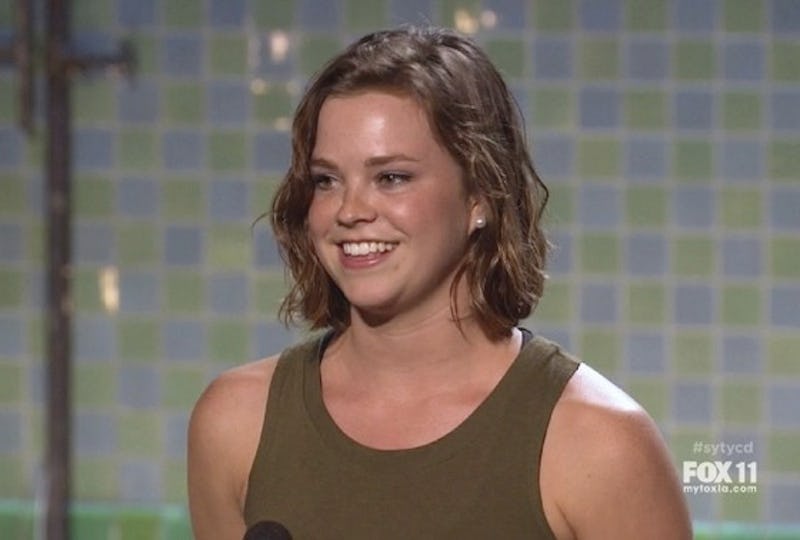 It's finally here! So You Think You Can Dance finally began its Top 20 competition Wednesday night, and there were some clear standouts among the wonderfully talented contestants. Two of these many shining stars in the crowd were tappers Zack Everhart and Valerie Rockey who truly excelled in their first routine on the show, which was bound to happen since they were able to dance in their own style. The judges loved the routine from start to finish, as did the studio audience who hilariously annoyed judge and executive producer Nigel Lythgoe with their shouting over the dancers' taps. But what will voters think of these two stunning dancers? Will Zack and Valerie have a chance to become America's favorite dancers over the multitude of contemporary and ballroom contestants this year?
From the very start of Season 11, Zack and Valerie have surprised the judges with their tap style and their flexibility to learn and adapt to other styles. At the LA callback week, Zack was easily the star of his group in the Hip Hop portion of the week and both tappers completely owned the Ballroom round. As an at-home audience member, I definitely took notice of them and I hope others do too because it's not the first time tappers and tap in general has been featured on the show. But it is about time the dance style gets properly recognized considering how it has fared so far in the SYTYCD history.
In Season 1 of SYTYCD, tapper Sandra Colton cracked the Top 20 but couldn't make it past the Top 16. The first time SYTYCD even came close to having a male tapper in the Top 20 was Ryan Kasprzak, Season 5 finalist Evan's brother, who was cut at the show's "Green Mile" in favor of Evan, a Broadway dancer. Ryan came back the following year but was surprisingly cut early during the Las Vegas callback week.
Season 6 featured two tappers Peter Sabasino and Bianca Revels but again, neither got past Top 16. The first time a tapper did make it into the Top 10 was Season 7 with Melinda Sullivan, a crazy awesome tapper who had the chance to meet and dance for Gregory Hines before his death.
There were a few more great tappers in the next few seasons but it wasn't until Season 10 that we had three great tappers in the Top 20, one of which made it all the way to the Top 4. Aaron Turner, the first tap finalist, lost out on being America's Favorite Male Dancer in favor of Hip Hop dancer Fik Shun but he astounded throughout the competition with his growth and versatility, especially considering he only made the competition because finalist Emilio had to withdraw due to injury.
I have a feeling that if it were ever the time for a tapper to be America's Favorite Dancer, it's this year with either Zack or Valerie. They're incredible and their technique is on point, it's now just about impressing the judges, they've done that especially since Nigel has always been a huge fan of tap. Now it's really all about the viewers.
Images: Fox