Madonna's Ego is Out of Control. Officially.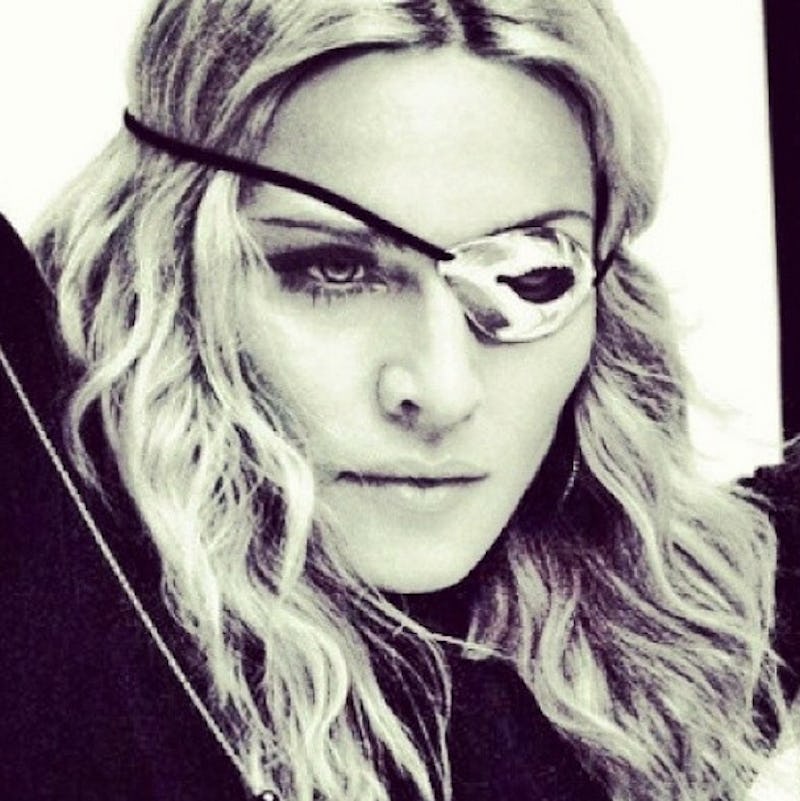 Is Madonna feeling herself just a little bit too much lately? On Tuesday, Madonna teased a new song on Instagram called, "Messiah," with the caption, "Magic makes the people come together yaaaaaaaasssssssssss." She even posted a short clip of the track. Interestingly enough, this news comes just days after DJ and producer Diplo revealed in an interview with Heloisa Tolipan, a Brazilian entertainment website, that he wrote seven songs for Madonna's new album, one of which is titled, "Bitch, I'm Madonna." Hmm, "Messiah" and "Bitch, I'm Madonna." Are we sensing a theme here?
I mean, it makes sense. Madonna's never really been short on ego — especially recently. Her last studio album, MDNA, included a song called, "I Don't Give A," which ended with rapper Nicki Minaj sneering, "There's only one queen, and that's Madonna... bitch." A little bravado can be fun, but a lot of bravado can be exhausting... especially when the artist doesn't always deliver. If I'm being completely honest, MDNA was kind of a disappointment.
Earth to Madge: We get it — you still think that you're the undisputed "Queen of Pop." If holding on to that title is something that's important to you, why don't you leave the immature posturing behind and just put out some new music that actually proves it! A true queen doesn't need to constantly proclaim that she's the best — she demonstrates it, day in and day out, with her actions. Duh. Frankly, I think it's time for Madonna to put up or shut up.
Don't get me wrong — I'm still looking forward to her new album. As we previously reported, Madonna's been in the studio with Swedish DJ Avicii, pop singer Natalia Kills, Interscope Records executive Martin Kierszenbaum, songwriters Toby Gad and MoZella, and producer Symbolyc One. We now know that she's created some material with the immensely talented Diplo, as well. This is all good news.
In fact, in his aforementioned Heloisa Tolipan interview, Diplo said of working with Madonna:
I do not usually feel pressured to write hits, but when it's an artist of this caliber, it's obvious that I want to push the boundaries a little further...
Well, that's definitely encouraging! I'm still a little leery of both "Messiah" and "Bitch, I'm Madonna," but perhaps I need to give Madonna the benefit of the doubt here. Given her impressive list of collaborators so far, it certainly seems possible that she could create another truly great album like Ray of Light. I just hope that she can learn to ditch the childish antics and let the music speak for itself.
Images: madonna/Instagram