You Need to See This Disney-Themed Wedding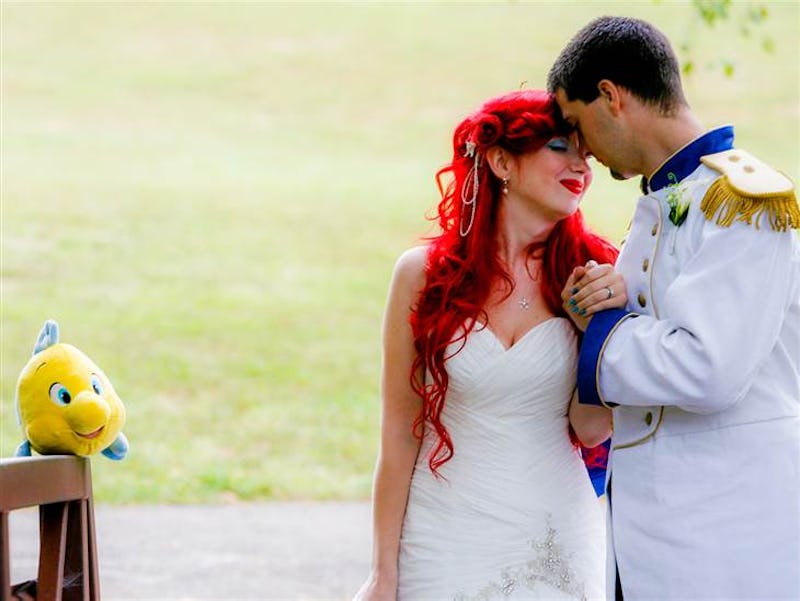 Very few married women get to say "I literally had a fairytale wedding" and mean it — other than fictional princesses and maybe a couple members of the Royal Court. Maybe. Well, and of course, Jamie and Christopher Chandler, who threw the Disney-themed wedding . And they totally killed it.
From Jamie's fire-engine red hair to the bridesmaids' Disney princess-inspired gowns, every single aspect of the wedding fit the theme. Though they were married in 2011, their photos surfaced in 2013 and have been a viral hit ever since, Today reports. I think it's safe to say she had the fairytale wedding to end all fairytale weddings.
According to TODAY, the couple share a mutual love of Disney, and both grew up with it. Christopher even proposed to Jamie at Disney World. Then, after two years of planning, Jamie and Christopher finally got to have their dream wedding. Though they couldn't afford to take their guests to Disney World, they still made it happen in their hometown of O'Fallon, Missouri. The best part: they tried to keep several aspects of the wedding DIY. The bridesmaids gowns, for example, were designed by the maid of honor.
Okay, enough background! Let's look at the wedding photos:
It's almost too good.
Images: Shari Photography/Imgur