The Coolest DIY Jewelry This Summer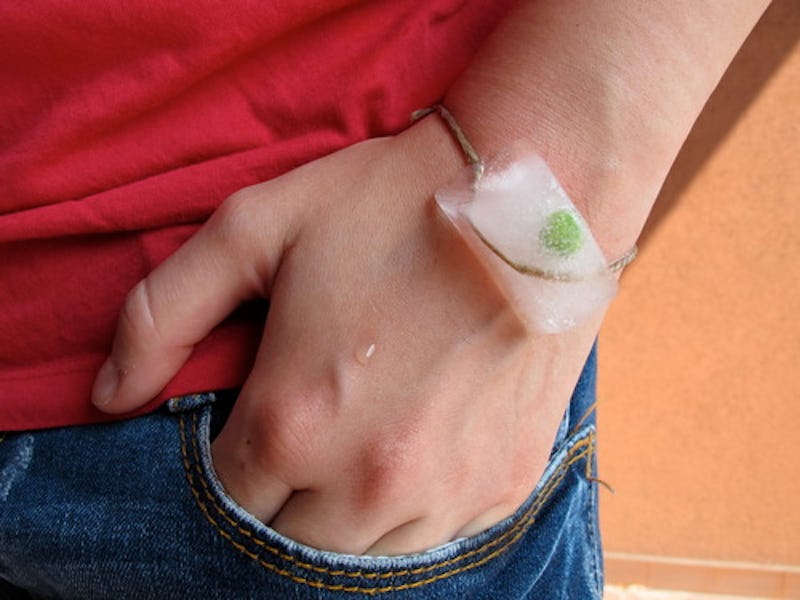 Feeling a little too hot this summer? Fear not! Two brilliant designers from Mathery have created a simple solution to cool you down during those heat waves that seem unbearable. Their DIY concept is simple. Take any old chains you may have kicking around, or even a thick piece of string or rope, and dip them into the individual ice cube trays as seen below. Once those little rectangles are frozen you will have created a unique piece of cool-down jewlery all by yourself.
Erika Zori and Matteo Sangalli are the brains behind this creative endeavor. They started their blog project back in 2012 while they were in design school and the ideas have been flowing ever since. Their goal was to use everyday practical items and turn their working parts into other extremely clever and usable formats. The duo now has their own design studio and documents their unique ideas on Instagram.
Of course, the ice cube jewlery may not be the most ideal piece to pair with your outfit to the office — silk blouses don't play well with water — but it does work perfectly in your down time to make those strong summer rays feel a little less intense. If you are a fitness junkie, this may just be the perfect accessory to chill out between those pesky burpees! Still not sold on the idea? At the very least, it's the perfect piece to string around your neck while you lie out at the beach, greatly reducing that feeling of baking to a crisp. And, honestly? I think it looks pretty cool.
Images: Mathery