It's Time to Say Goodbye to Brooklyn on 'SYTYCD'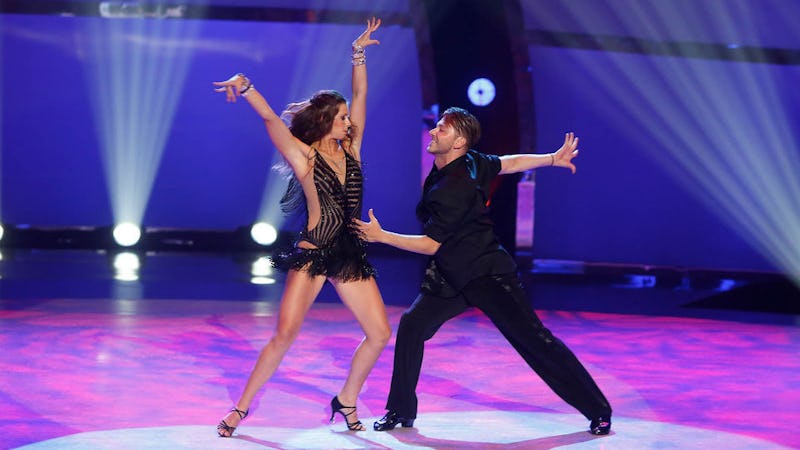 The Top 20 are off, and it's no surprise that we witnessed some incredible performances on So You Think You Can Dance 's first live show of the season. The judges have put together a group of 20 extremely talented dancers and this year they were given their own styles of dance to kick off the season. This levels the playing field in a way the dancers have not always been granted in the past, and it makes it easy to identify frontrunners from the beginning. It also makes it very easy to see who falls a little short compared to the rest of the group, which is why it's so clear that Brooklyn Fullmer should be the next dancer eliminated from the competition.
SYTYCD has a good mix of genres this year, and I'm excited to see what these highly trained dancers can do with unfamiliar styles, but the failure for some contestants to impress in their own style is disappointing. Brooklyn, a latin ballroom dancer, had the tough charge of performing first out of the everyone in the Top 20. It's always exciting to see ballroom experts light up the stage in their own style, but it's a huge letdown to see someone fall short of a dynamic performance, particularly when paired with a partner who outshines when they should really complement.
It's not that Brooklyn isn't talented, but her Cha Cha performance with Serge Onik failed to ignite the passionate feelings a latin ballroom routine usually does, and in fact did later in the night, with Malene and Marcquet's Samba and Tanisha and Nick's Cha Cha. Brooklyn seemed to perform the choreography with a bit of a lag, and her legs and feet extensions never quite got there. The steps seemed labored and transitions awkward. Even to the untrained eye, it was almost possible to identify how she was completing technical steps incorrectly. SYTYCD judge Mary Murphy noted that Brooklyn's nerves were apparent when the music started, but every dancer is nervous, and usually the quality of performance leaves viewers unaware of any nerves.
If Brooklyn's technique seems a little off in her own style and speed appears to be an issue, that doesn't provide a great outlook for potential lightning-fast Christopher Scott stunners or abstract Sonya Tayeh numbers. Not only that, but her partner Serge stole the show. Brooklyn's performance shortcomings just drew the eye to her partner, and her awkward, hesitant moments distracted from the nonstop cadence viewers wanted out of the dance, and the chemistry expected of a latin ballroom partnership.
There are a lot of factors that could have contributed to Brooklyn's less than stellar performance last Wednesday. However with the stakes so high, even one misstep can mean her security as a contestant is threatened. The standard is so high that anything less than near-perfection, especially in her own style of dance, means it's probably time for SYTYCD fans to say goodbye to Brooklyn.
Image: Fox