What To Expect From 'OUAT's Return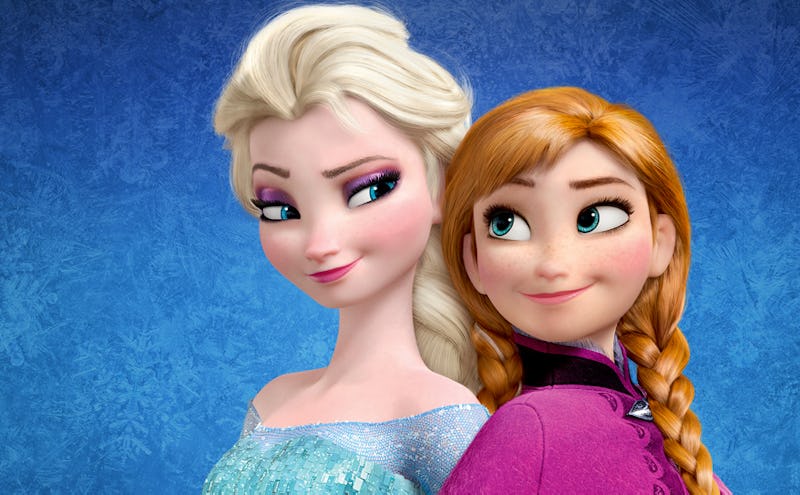 There's been a lot of talk of late about the way Once Upon A Time ended its third season. Namely, the giant Frozen bombshell they dropped with that shot of Queen Elsa strutting her way into Storybrooke. And now we've got a bit more intel into Season 4. Namely, that Once Upon A Time 's Season 4 premiere will be called "A Tale Of Two Sisters."
Complicated familial relationships are hardly new to the Once Upon A Time universe. In fact, it could be argued that those exact dynamics make up approximately 90 percent of Once Upon A Time — Henry's related to pretty much everybody, Emma's the same age as her parents, Peter Pan is the father of a middle-aged man and the grandfather of one of the kids he held hostage, etc. It's all messed up. In fact, the show's third season delved into one sisterly relationship through the seriously effed up dynamic of Regina and Zelena.
But it's pretty clear who they're talking about when they call this episode "A Tale Of Two Sisters." This is Frozen territory now, and it seems the season premiere will dive right into Disney's most recent legacy. They've already cast Georgina Haig, Elizabeth Lail, and Scott Michael Foster as Elsa, Anna, and Kristoff in OUAT , after all.
There's a slight possibility the episode will focus on another set of sisters. But OUAT's hardly coy — on the whole, we pretty much know what to expect, save a few prerequisite twists.
Image: Disney