Usher's "She Came to Give It to You" With Nicki Minaj Is a "Blurred Lines"-Sized Disaster — LISTEN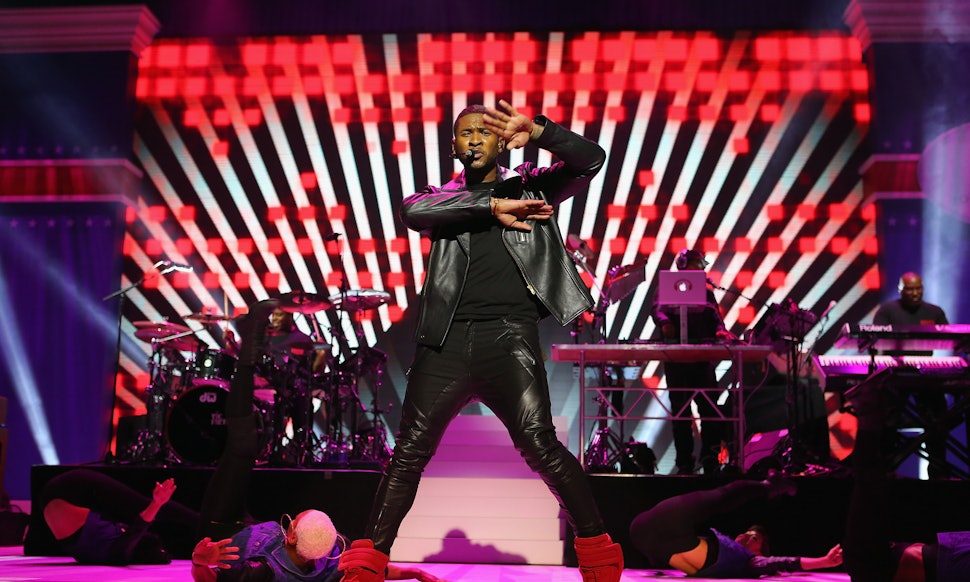 Joe Raedle/Getty Images News/Getty Images
Uh, Usher? We've gotta talk. On Tuesday morning, Usher premiered his new single, "She Came to Give It to You," featuring rapper Nicki Minaj, and it's a total disaster. Produced by Pharrell Williams, "She Came to Give It to You" is a funky, up-tempo club track with a similar sound to Robin Thicke's "Blurred Lines" — but unfortunately, that's not all the two songs have in common. Much like "Blurred Lines'" icky "I know you want it" refrain (and, you know, that whole disgustingly misogynistic music video fiasco), the entire concept behind "She Came to Give It to You" is problematic.
"She Came to Give It to You's" lyrics can be a little tough to decipher at times, but the troubling bits come through loud and clear. At the outset, Usher describes a woman who came to the club in order to "get away" and just dance and have a good time (she doesn't want anybody "crowding her space"), but then, suddenly, he's singing the line, "If you only knew... she came to give it to you!" What? Wait, where'd that come from? Then, the chorus hits and makes everything a thousand times worse:
Well, it ain't what you do, it's what you do it like
And there ain't no shortcut to doing something right
If you do what I do, she'll be yours tonight
Just look around the club, cuz, you're here to have a good time
It's almost as if Usher is mentoring another man, essentially telling him, "See that woman over there? She thinks she's just here to dance and have a good time, but she's wrong. She doesn't know it yet, but by the end of the night, she's going to give it to you — if you play your cards right."
Seriously, Usher? Effing gross.
Again, just like "Blurred Lines," "She Came to Give It to You" has a fun, bouncy vibe, but nothing can distract you from the song's predatory, "rapey" lyrics once you've really heard them. I guess Pharrell, who co-wrote and produced "Blurred Lines," hasn't quite learned his lesson yet. About halfway through, Minaj stops by and delivers a decent verse, but eh, I was kind of beyond caring about the track by that point.
Reportedly, "She Came to Give It to You" is the official second single from Usher's upcoming eighth studio album. I wasn't a big fan of lead single, "Good Kisser," either (which was just released in May), but at least it got a killer remix from U.K. dance duo Disclosure. Honestly, you'd be much better off listening to that than "She Came to Give It to You," but if you're really curious about the new song, you can check it out via Complex below.
Image: yourmakeup-isterrible/tumblr