10 Crumbs Cupcakes That (Sadly) Will Never Be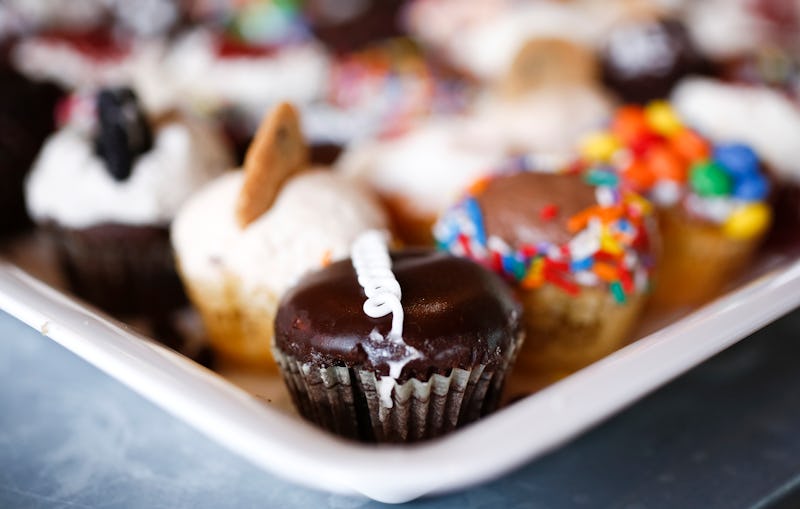 Brian Ach/Getty Images Entertainment/Getty Images
By now you've probably heard that New York–based bakery chain Crumbs cupcake shop has closed every single one of its stores in a surprise move announced on Monday. This sucks for a variety of reasons, not all of which are cupcake-related; scores of people have lost their jobs without notice, which I would argue trumps the fact that we'll have to go elsewhere to satisfy our cravings for stupidly huge cupcakes.
I had just moved to New York when Crumbs was beginning its sugar-scented reign on the Upper West Side. The Crema Lita up near Barnard and Columbia used to sell their treats; as such, I have many fond memories of trekking down to the store during the middle of midterms and finals seasons with my roommates for a series of sweet pick-me-ups the size of our heads. Like many, I loved the fact that they reinvented a lot of my favorite bad-for-me foods: there were Snickers-flavored treats, Hostess lookalikes, cookie dough-stuffed versions. But alas, no more will we be able to indulge in their ridiculousness.
And neither will we be able to look forward to any new creations they might have made. Join me in mourning these cupcakes that never were and now, sadly, never will be.
1. Cookie Butter Cupcake
Lightly spiced ginger cake filled with cookie butter and topped with a giant cookie. Or, alternatively, Crumbs could partner with Waffles and Dinges, who are known for their liberal use of Speculoos spread, and stick a waffle on top. Either/or. Cookie butter overload!
2. Breakfast Cupcake
Let's swap out the actual cake for French toast, top it with maple cream cheese frosting, and sprinkle a whole lot of bacon on top. It's a totally acceptable breakfast.
3. Zebra Cupcake
The Squiggle is clearly a re-creation of the classic Hostess cupcake, so why not riff off of Little Debbie for the folks who aren't as enamored of chocolate? This one would consist of yellow cake filled with vanilla buttercream and topped with white chocolate ganache. A few chocolate stripes on top give it the tiniest hint of fudge.
4. The Crepecake
If Crumbs wanted to get in on the hybrid pastry trend, how about a dessert made of a zillion crepes layered together in cupcake form, à la the famous Lady M Bakery creation? Sprinkle a little bit of cinnamon sugar between each layer and top it with fresh berries, and you've got a cupcake you could conceivably eat for breakfast, if the Breakfast Cupcake doesn't do it for you.
5. Chocolate Pretzel Cupcake
Chocolate-covered pretzels in cupcake form: Chocolate cake filled with chocolate buttercream with a healthy coating of chocolate ganache. The finishing touch? Crushed pretzels sprinkled liberally over the top.
6. Strawberry Shortcake
Angel food cake filled with strawberry preserves and topped with vanilla whipped cream. Naturally, there would have to be the biggest, ripest strawberry ever parked at its crown.
7. Cotton Candy Cupcake
To be honest, I have no idea what a cotton candy cupcake would actually be made of. Whatever it is, it's probably sickeningly sweet and therefore a huge hit with kids. Or something.
8. Peach Melba Cupcake
Raspberry cake filled with peach preserves and topped with vanilla frosting. Kick it up a notch by adding a scoop of vanilla ice cream.
9. Cherry Cheesecake
For those who like the idea of Crumbs' Red Velvet Cheesecake offering, but wish it had a tart little edge to cut the sweetness: Vanilla cake filled with cheesecake and topped with vanilla frosting and cherry preserves.
10. Macaroon Cupcake
Similar to the cotton candy cupcake, I have very little idea of what a macaroon cupcake would actually be made of. I imagine the cake would be slightly almond flavored, and, of course, it would have to come in a variety of aesthetically pleasing pastel shades.
Images: Getty Images, vvmich/Fotolia, Mat Hayward/Fotolia, Little Debbie, Sevendeman/Fotolia, bradcalkins/Fotolia, Arena Creative/Fotolia, Pixabay, alex9500/Fotolia, yuliiaholovchenko/Fotolia, luckybusiness/Fotolia